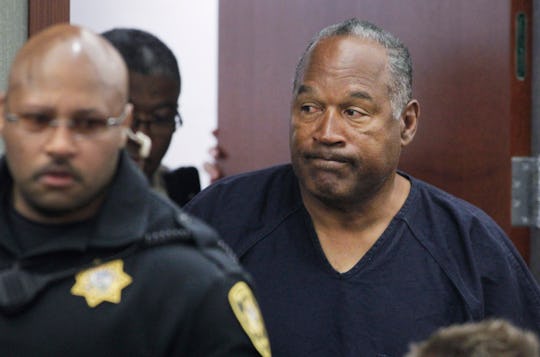 Pool/Getty Images News/Getty Images
Could OJ Simpson Be Convicted If The Knife Is Tied To Him? It's An Eerie Development
For a case that's more than 20 years old, the O.J. Simpson trial has been getting more than its fair share of renewed attention. First, FX's series American Crime Story: The People v. O.J. Simpson reignited the public's attention in the "trial of the century." To top that off, in a bizarre turn of events, a knife reportedly found on Simpson's Brentwood property years ago was recently turned in by a former LAPD officer. Police are now testing the knife for possible connections to the murders of Nicole Brown Simpson and Ron Goldman in 1994. Those who have followed the case are likely wondering: if the knife were eventually tied to him, could O.J. Simpson be convicted all these years later?
Never mind that Simpson is already in jail on unrelated charges (he was incarcerated in 2008 on armed robbery and kidnapping charges, according to ABC). Even if he weren't, any legal ramifications from the discovered knife would likely be limited. Simpson could not be criminally charged for the murders of Brown Simpson and Goldman, due to the fact that he was already acquitted of the crime in 1995, according to The Guardian.
The United States Constitution has a double-jeopardy clause, which means a person can't be tried twice for the same crime. This, as criminal defense attorney Michael Brennan told The Hollywood Reporter, "prevents people from being harassed with criminal charges that they've been acquitted of in the past. If you fail to convict them, you can't try it again."
The knife itself certainly brings up some questions in regards to the 1995 trial, where a murder weapon was never found. It's been more than two decades since the trial, making people wonder why the knife has only been brought up now. According to CNN, former LAPD officer George Maycott was given the knife by a construction worker in 2002 or 2003, while he was working as a security guard on a movie set near Simpson's Brentwood property. Maycott reportedly called the police department to report the knife, but when he was told the case was closed (which it isn't — the case remains open today, as no one has been charged with the murders of Brown and Goldman), he stashed the knife in a toolbox and forgot about it until recently.
However, if forensic evidence on the knife did link Simpson to the murders, it could affect Simpson's possibility of parole. He will be up for parole in 2017 in Nevada, and a link to the murders could keep him from an early or conditional release. "The Nevada Parole Board may consider and give relevant weight to any evidence that bears on whether the release of the petitioning inmate could constitute a danger to the public," the state attorney general's office said, according to WCVB.
At the federal level, Simpson could also face charges, but it's not likely. "Federal authorities in federal court could pursue charges of violation of the victim's federal civil rights. I don't know off the top of my head if that's a possibility in the O.J. case because of the statute of limitations," Brennan told The Hollywood Reporter. "Having said that, that piece of evidence alone might not be enough to cause federal prosecutors to file such charges even if they could."
Simpson's Las Vegas lawyer, Malcolm LaVergne, does not seem worried about the knife finding. "The only thing I've heard is that some cop claims some other guy claims he found a knife on some property," LaVergne said, according to WCVB. "From what I can see, there's no chain of custody."
According to The Los Angeles Times, unofficial sources have said a preliminary review of the knife does not suggest it was connected to the murders of Brown and Goldman. A DNA test is being carried out and may uncover more information, but even if they incriminated Simpson, he could not legally be tried again for the same crime.