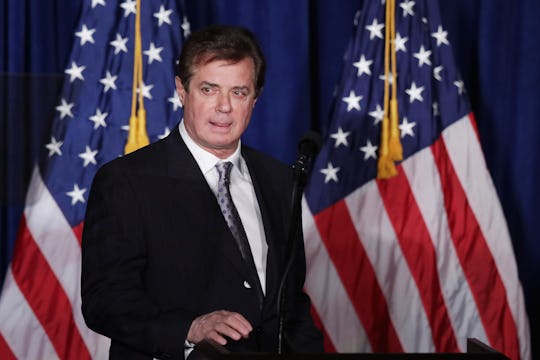 Chip Somodevilla/Getty Images News/Getty Images
Could Paul Manafort Go To Prison? Here Are The Charges He Faces
On Monday morning, the first charges stemming from special counsel Robert Mueller's ongoing investigation into Russian election interference were made public, and former Trump campaign chairman Paul Manafort was one of the first individuals to be indicted. Could Paul Manafort go to prison? According to CNN, Manafort and former Trump campaign official Rick Gates have been charged on multiple counts, including conspiracy against the United States, conspiracy to launder money, false and misleading U.S. Foreign Agents Registration Act (FARA) statements, and failure to file reports of foreign bank and financial accounts.
Manafort is said to have turned himself over to the FBI Monday morning, and is expected to appear before District Magistrate Judge Deborah Robinson in Washington later this afternoon. Neither Manafort, Gates, nor the White House have yet commented on the charges, and Romper's request for comment was not immediately returned.
The charges are the latest development in an investigation that Mueller launched in May, and the claims against the two men are damning. According to The New York Times, the indictment says Manafort "laundered more than $18 million to buy properties and services," and that he "used his hidden overseas wealth to enjoy a lavish lifestyle in the United States without paying taxes on that income." Manafort and Gates are also said to have "repeatedly provided false information to financial bookkeepers, tax accountants and legal counsel, among others."
While Manafort is perhaps best known for his involvement in the Trump campaign, The Washington Post reports that, actually, the FBI has been interested in Manafort since as far back as 2014, due to his work as a political consultant in Ukraine. Prior to working with the president, The Washington Post notes that Manafort spent years "[advising a] Russia-friendly political party," and that federal agents had concerns about foreign financial accounts and tax violations.
Publicly though, concerns about Manafort's Russian ties began to heat up during Trump's presidential campaign, ultimately leading to his departure. In August 2016, the president issued a statement confirming that Manafort had resigned from his post as campaign chairman, according to Politico, and said that he was "very appreciative for his great work in helping to get us where we are today, and in particular his work guiding us through the delegate and convention process." But now, it seems the ties may not have been cut entirely: in Manafort's place, it was Gates who became Trump's campaign's liaison to the Republican National Committee.
The investigation into Manafort remained ongoing though despite his resignation, and in July 2017, FBI agents obtained a search warrant and raided Manafort's home without warning. According to The Washington Post, that suggests that prosecutors had been able to gather enough evidence to convince a federal judge that a crime was committed, and "that key evidence could be destroyed or withheld."
Now the FBI has moved ahead to directly indict him, but anyone expecting to see Manafort swiftly taken down in a high-profile trial probably shouldn't hold their breath. According to Wired, Manafort and Gates' indictment is likely to be only the very first piece of a much larger puzzle, with many more charges to come. Wired notes that the federal government rarely charges only one or two individuals, and that instead, the FBI "starts at the bottom or periphery of an organization and works inward, layer by layer, until it's in a position to build a rock-solid case against the person at the top."
Another thing that likely won't come out of the FBI investigation? Any charges of so-called "collusion." Although the notion of Russian collusion has been a huge focus of news stories and social media debate, Wired notes that, legally, collusion isn't actually a thing. Instead, it's likely that the bulk of the charges coming forward will be regarding crimes like money laundering and various other fraud charges. And, as already seen with Manafort and Gates, there will probably be more charges of conspiracy against the United States as other individuals are indicted.
In other words? While the Manafort indictment is major news, the FBI is almost certainly just getting started. And given that the charges against Manafort are serious, it seems like it wouldn't be at all surprising if he opted to cooperate with investigators in return for a lighter sentence. Either way, today's indictment definitely won't be the last we hear from Mueller's investigation.