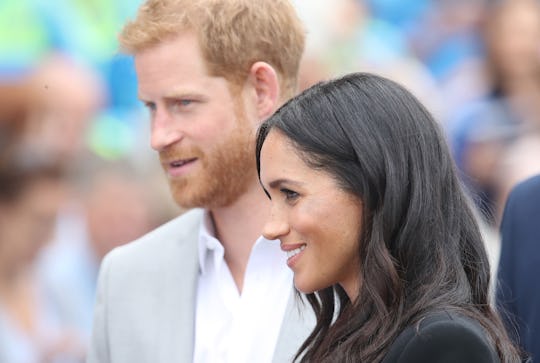 Chris Jackson/Getty Images Entertainment/Getty Images
Prince Harry & Meghan Markle Just Added A New Member To Their Family!
From my experience with newlyweds — both in-person and on social media — one of the common next steps after marriage is adopting a pet together. Whether it's a brand new kitten or a dog, this shared responsibility of caring for a "fur baby" not only brings couples closer together — but it's also fantastic practice for a real baby. (I know, I know, not always.) But oftentimes, once couples move in together and own a pet together, a human baby is just around the corner. Considering the latest news about the Duke and Duchess of Sussex, fans are probably speculating: Could Prince Harry and Meghan Markle adopting a dog together mean a baby will soon follow?
On Saturday, Aug. 25, E! Online reported that the Duke and Duchess of Sussex reportedly adopted a Labrador dog earlier this summer. Although a name for their new furry friend has yet to be revealed, the canine has joined the couple on short stays at their home in the Cotswolds, in addition to hanging out at their cottage at Kensington Palace, according to the publication.
Of course, this news isn't particularly shocking, given the royal family has always had a soft spot for dogs. Meghan herself has revealed that she's a dog lover; before marrying Prince Harry, she had two dogs on her own. Although Markle ended up bringing her Beagle named Guy across the pond to live with her in the UK, according to People, she ultimately re-homed her other dog, Bogart, to a friend who lives in Los Angeles. (Fun fact: Guy rode with Queen Elizabeth in her Range Rover on her way to the royal wedding on May 19.)
Further proof for Markle's affinity for canines can be found in how Queen Elizabeth's dogs reacted to her the first time they met, according to People. During their first joint interview together following their engagement, Prince Harry told Markle, "The corgis took to you straight away. I've spent the last 33 years being barked at, this one walks in, absolutely nothing."
"They were laying on my feet during tea!" Markle confirmed with a laugh.
"Just wagging tails — and I was just like, argh," Harry added. (Skip forward to roughly the 15:30 mark, to hear this bit for yourself.)
Of course, dogs have remained an important part of the royal family through the years. Like when Kensington Palace release this family shot of baby Prince George, Prince William, Kate Middleton, and their black cocker spaniel, Lupo.
And there was this more recent birthday shot of Prince George feeding Lupo some ice cream.
And who could forget Queen Elizabeth's love for her corgis through the years? The Duke and Duchess of Sussex's new addition comes just a few months after Queen Elizabeth put down her last corgi, Willow, who was reportedly about 15, E! Online reported. Reportedly, the dog had been suffering from cancer, and was put down at Windsor Castle. Willow was actually a 14th generation royal corgi — meaning she was descended from Queen Elizabeth's first dog, Susan, who was given to her when she was 18.
"She has mourned every one of her corgis over the years, but she has been more upset about Willow's death than any of them," a Buckingham Palace source told the Daily Mail in April." It is probably because Willow was the last link to her parents and a pastime that goes back to her own childhood. It really does feel like the end of an era."
For some, reports that Prince Harry and Meghan Markle adopted a dog together beg the question: Could another royal baby soon be on the way? To be clear, I would never relate owning a dog to caring for a baby. Sure, both endeavors include nurturing and keeping another being alive — but they're decidedly different. (You can't just leave a baby in a kennel with a puppy pad, for example, and head off to the grocery store.) However, as ET Online pointed out, William and Kate adopted their cocker spaniel, Lupo, shortly after they get married in 2011. Then in 2013, they welcomed their first child, Prince George.
So who knows? Prince Harry and Meghan Markle adopting a dog could be a sign that baby will soon follow. Or, you know, it could just mean they love dogs. I guess only time will tell!