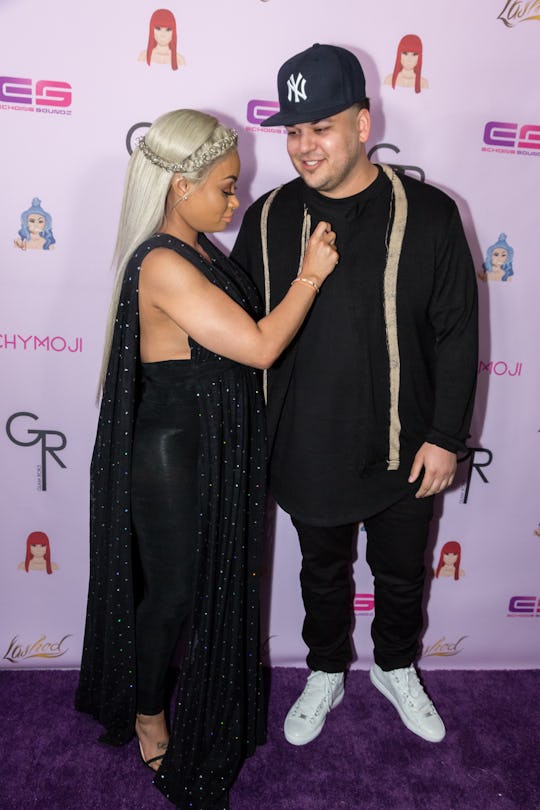 Greg Doherty/Getty Images Entertainment/Getty Images
Could Rob Kardashian Go To Jail?
In his recent explicit and graphic attack on his ex-wife, Blac Chyna, Rob Kardashian upset a lot of people. As it turns out, he also allegedly broke the law. Along with a slew of insults and accusations, he also posted nude photos. For that, Rob Kardashian could possibly go to jail if found guilty. It is unclear, however, whether the photos he posted are actually of Chyna, as her face is not visible in the image. If they are photos of her, as he alleges, they could constitute revenge porn. Romper has reached out to Kardashian for comment, but has yet to hear back.
One of the photos in question was a part of a screenshot of a text conversation, allegedly between Kardashian and Chyna, where he asks her to send him an intimate photo. That photo specifically, among others, has since been removed from Instagram and Twitter, but it was of exposed female genitals and showed a large leg tattoo that many people are claiming is Chyna's. Unless Chyna gave Kardashian permission to post the photos, posting them online constitutes revenge porn.
Revenge porn is commonly understood to be an action where one party posts graphic photos or videos of the other without the victim's consent, according to Business Insider. The photos and videos are often taken while the two are in a relationship and then posted later to punish the victim. Kardashian claimed that Chyna cheated on him, sparking his posts on social media.
In an attempt to protect victims from the emotional and reputational damage caused by having compromising images and videos shared on the internet, many states have enacted legislation to prosecute their attackers. In fact, revenge porn is illegal in 38 states and Washington, D.C., including the state of California, where Kardashian reportedly was when he posted the photos. The Cyber Civil Rights Initiative reports that revenge porn is classified as a misdemeanor disorderly conduct charge in California. If the state presses charges, the consequences for Kardashian could be severe: up to one year in jail as well as some hefty court fines.
According to TIME, attorney Carrie Goldberg weighed in on the legalities of Kardashian's actions, calling them "classic, quintessential revenge porn":
Rob has made the work of a prosecutor or a victim's attorney quite easy so far as to even post about the very motive behind his outrageous act of posting these private and nude photos of his ex.
Only time will tell if the state will pursue a case against Kardashian, but as of now he is not guilty of any specific crime, under a court of law. Regardless of whether he serves jail time, Kardashian cannot take back what he did to his ex-wife — the potential pain he caused her and their family is something that will stick around indefinitely.