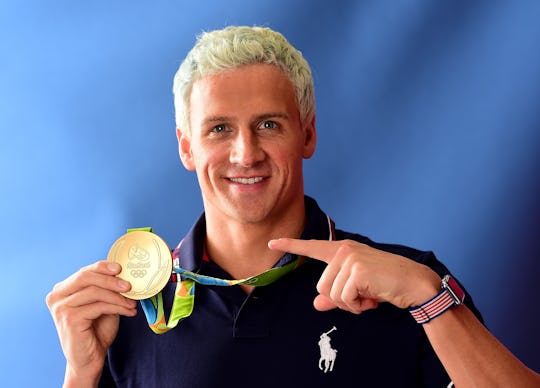 Harry How/Getty Images Sport/Getty Images
Could Ryan Lochte Go To Jail? It's Complicated
The plot of the Ryan Lochte gun robbery mystery thickened after Brazilian officials held a news conference Thursday afternoon to unveil even more facts concerning the case. The police in Rio are now saying that Lochte and the three other American Olympic swimmers who had previously claimed to have been robbed at gunpoint on Sunday were allegedly lying about the incident. The investigation is still ongoing and Lochte is back on U.S. soil. This begs the question, though: What happens if he did lie? Could Lochte face jail time for potentially misleading the authorities? The answer is complicated.
If it indeed turns out that Ryan Lochte and his fellow Team USA members were lying about the robbery, the group could technically face time behind bars. Filing a false police report is a misdemeanor punishable under Brazilian law. Under Special Part Title 11, Chapter 3, Article 340 of Brazil's Penal Code, a person is subject to a detention period of one to six months for reporting a crime that never took place.
Another clause in Brazil's Penal Code states that making a false statement or denying the truth as a witness in legal proceedings or in a police investigation can be punished by one to three years in detention. The four American swimmers could potentially face the Brazilian justice system for allegedly violating these laws.
Gunnar Bentz and Jack Conger, two of the swimmers involved in the incident, reportedly told the police the story was fabricated by Lochte after the group caused damage to a gas station bathroom. Brazilian police have recommended that both Lochte and Jimmy Feigen be indicted on charges of falsely reporting a crime. It is now up to prosecutors to decide whether or not to act upon the police recommendation. That step had not yet been taken as of Thursday night.
Lochte's lawyer did not immediately respond to a request for comment.
This is where things start to get complicated. Should prosecutors choose to indict Lochte, he would have to be extradited. Lochte returned to the United States days before the Brazilian courts ordered his passport to be seized. In order to be extradited, American authorities would have to turn Lochte over to the Brazilian authorities in Rio. Lochte and Feigen would be indicted for a misdemeanor filing of a false report, which is not an offense recognized under the applicable treaty between Brazil and the United States that would be subject to extradition. More serious crimes, such as murder and rape, would be applicable to extradition.
Lochte continues to maintain his innocence as the events in Rio continue to unfold. Time will tell how this situation will play out and what the true consequences will be for the Team USA swimmers.