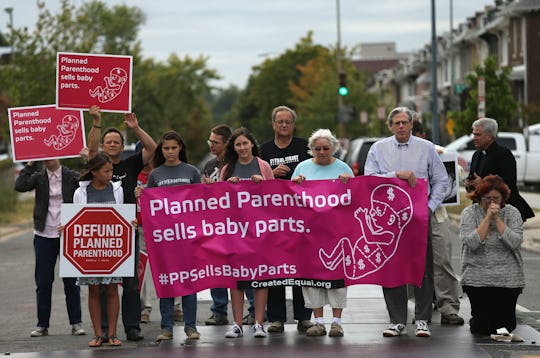 Win McNamee/Getty Images News/Getty Images
People Behind Planned Parenthood Videos Could Face Prison
On Tuesday, California State Attorney General Xavier Becerra announced felony charges for anti-choice activists David Daleiden and Sandra Merritt for their roles in surreptitiously filming Planned Parenthood health care providers in 2015. The video, which Planned Parenthood asserted was "heavily edited to deceive the public," appeared to show that abortion providers sold fetal tissue for profit to medical researchers. Could the doctored Planned Parenthood video makers go to prison? With 15 felony charges made against Daleiden and Merritt, it's a very real possibility.
Planned Parenthood, the Center for Medical Progress, and attorneys for Daleiden and Merritt didn't immediately returned Romper's request for further comments. A trial date has not yet been set.
Daleiden and Merritt run The Center for Medical Progress, an anti-choice organization founded by Deleiden in 2013. Between October 2014 and July 2015, the pair allegedly secretly filmed 14 different abortion providers in their undercover film project, claiming to represent a fake biomedical research company. Daleiden and Merritt have each been charged with "unlawfully recording people without their permission," with one count assigned for each of the 14 people they recorded. The 15th felony charge is for "conspiracy to invade privacy," according to The Los Angeles Times.
California is a two-party consent state, meaning that Daleiden and Merritt allegedly broke the law when they filmed private conversations without their subjects's consent. On the charges, Becerra said Tuesday,
The right to privacy is a cornerstone of California's constitution, and a right that is foundational in a free democratic society. We will not tolerate the criminal recording of confidential conversations.
The CMJ video sparked a wave of criminal investigations of Planned Parenthood in 12 states — in which each state found no criminal wrongdoing on the part of Planned Parenthood. In addition, Planned Parenthood President Cecile Richards testified before Congress, with a number of heated exchanges between herself and House Oversight Committee Chair, Rep. Jason Chaffetz. While the congressional investigation found no evidence of wrongdoing by Planned Parenthood, the doctored CMJ video also reinforced efforts by the GOP to defund Planned Parenthood when House Speaker Paul Ryan convened a select committee to investigate the organization. This was despite the fact that the video's allegations that the organization sold fetal tissue for profit were proven false.
Planned Parenthood's Interim Vice President of Communications Mary Alice Carter said the following in a statement after the felony charges against Daleiden and Merritt were announced Tuesday, according to an email press release:
As we have said from the beginning, and as more than a dozen different state investigations have made clear: Planned Parenthood has done nothing wrong, and the only people who broke the law are those behind the fraudulent tapes. The California Attorney General filing criminal charges sends a clear message that you cannot target women and you cannot target health care providers without consequences. We look forward to justice being served.
Daleiden countered with a statement of his own early Wednesday morning, via his organization's website, The Center for Medical Progress. Daleiden stated he has more footage to release, in an effort to expose Planned Parenthood as the "real criminals." He continued:
We look forward to showing the entire world what is on our yet-unreleased videotapes of Planned Parenthood's criminal baby body parts enterprise, in vindication of the First Amendment rights of all.
It's unclear if those unreleased videotapes exist, so, for now, those who are looking for information about Planned Parenthood will just have to stick to the facts, which are heavily on the side of the crucial organization.