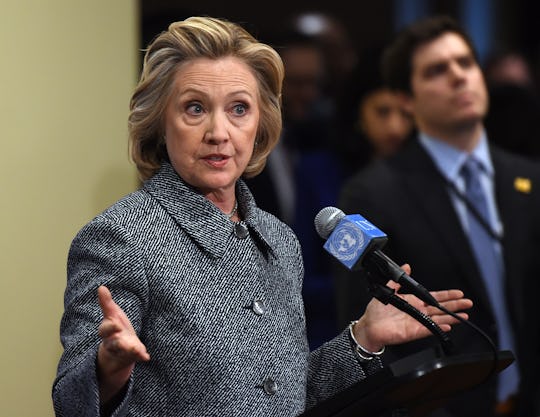 DON EMMERT/AFP/Getty Images
Could The FBI's New Clinton Email Investigation Affect The Election? It Doesn't Look Good
It looks like one grueling investigation into Hillary Clinton's emails was not enough. Her battles aren't over. According to Business Insider, the FBI will reopen its investigation into Clinton's emails after learning of more information that may be relevant to the investigation.
Update: After further review, it has become clear that the FBI is not reopening the investigation of Clinton's emails. The letter by FBI director James Comey stating that evidence relevant to the investigation would be reviewed again for an unrelated case was legally required. Because Comey's previous testimony stated that he had finished reviewing all evidence, Comey was legally required to inform Congress of his amended testimony, which he chose to do in a letter that was misinterpreted.
Hillary for America Chair John Podesta released the following statement regarding the letter on Friday:
FBI Director Comey should immediately provide the American public more information than is contained in the letter he sent to eight Republican committee chairmen. Already, we have seen characterizations that the FBI is 'reopening' an investigation but Comey's words do not match that characterization... It is extraordinary that we would see something like this just 11 days out from a presidential election. The Director owes it to the American people to immediately provide the full details of what he is now examining.
Comey sent a letter on Friday to the Senate Judiciary Committee stating that new emails have been recovered in an unrelated investigation that made the FBI team reconsider their closed investigation, according to CNBC. While he didn't explicitly say that the investigation would be "reopened," he did imply that some review of new evidence and the older investigation would take place.
Although the FBI cannot yet assess whether or not this material may be significant, and I cannot predict how long it will take us to complete this additional work, I believe it is important to update your Committees about our efforts in light of my previous testimony.
With 11 days to go until Election Day, this is a huge development. It's unlikely that the FBI will release any bombshells against Clinton in such a short amount of time. But the further investigation of relevant materials could still remind voters that the presidential hopeful isn't the perfect candidate — that is, if they had ever forgotten. Polls say they didn't. Many voters have been faced repeatedly with the fact that Clinton mishandled sensitive information. Her opponent Donald Trump mentions the emails at every chance he gets, and the recent drip of Clinton's emails on Wikileaks has renewed the public's attention on the subject.
But this news still doesn't look good for the Clinton camp. That the FBI is investigating Clinton again could be cause for speculation among many undecided voters about the candidate's sensitivity in regards to classified documents. Polls and early voting counts in the coming days will likely tell us how voters actually feel about it.
One thing is for sure: the stock market is not taking the news well.
Earlier this year, the FBI completed its investigation of the former Secretary of State's private email server and did not recommend any further investigations or criminal charges, according to Politifact. At the time, Comey said there wasn't enough evidence that Clinton intentionally handled a significant number of emails inappropriately to prosecute. But he did say her use of a private server was "extremely careless." It's important to remember that this still stands, as the investigation has not been reopened.
Regardless of the outcome of the new investigation and what relevance it may have on Clinton, the candidate is already in the court of public opinion. We'll have to wait to see how that court decides.