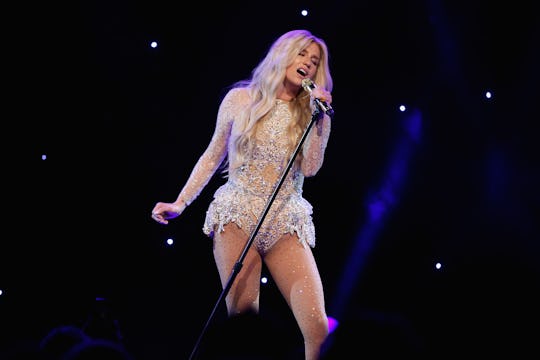 Robin Marchant/Getty Images Entertainment/Getty Images
Could The Kesha Court Decision Be Reversed? The Singer Is Running Out Of Options
It's been a difficult weekend for pop singer Kesha. On Friday, a New York judge ruled against an injunction against Dr. Luke (whose real name is Lukasz Gottwald), effectively ending Kesha's efforts to be released from her contract with the music producer. Manhattan Supreme Court Judge Shirley Werner Kornreich told Kesha's attorney, Mark Geragos, "You're asking the court to decimate a contract that was heavily negotiated and typical for the industry." Ultimately, Kornreich denied Kesha's request for an injunction, saying: "My instinct is to do the commercially reasonable thing." But could the Kesha decision be reversed?
Kesha has been involved in a series of legal battles with Dr. Luke. To recap, Kesha claimed Dr. Luke drugged and raped her in a lawsuit filed in October 2014. Dr. Luke then countersued Kesha for defamation and breach of contract. His lawyers released a statement (part of which is below) to Rolling Stone on Monday:
As Dr. Luke has said repeatedly, the allegations against him are outright lies that have been advanced to extort a contract renegotiation and money. Kesha and her counsel have cavalierly subjected Dr. Luke and his family to trial by Twitter, using a vicious smear campaign to ruin his reputation for financial gain while failing to support their claims.
Tellingly, Kesha never reported any purported abuse or rape to any law enforcement authority, or even to Sony Music, and further swore under oath in another matter, while accompanied by her team of lawyers, that it never occurred. The goal of Kesha's counsel throughout has been to obtain a more lucrative contract through a shameless campaign of outrageous claims they will never stand behind in a court of law.
In June 2015, Kesha amended her lawsuit to include Sony Music Entertainment, claiming Sony Music's "conduct placed female artists in physical danger" by allowing them work with Dr. Luke. The 42-year old music producer has repeatedly denied Kesha's claims and his lawyers allege that her lawsuits against him are an attempt to force him to release her from her contract, which requires that she must produce six more albums with him.
In October of 2015 — one year after filing her original suit — Kesha's lawyer sought an injunction with Sony to end her contractual working relationship with Dr. Luke, stating in court filings:
Until this Court rules on the declaratory judgment claim, Kesha is at an impasse. She cannot work with music producers, publishers, or record labels to release new music... Her brand value has fallen, and unless the Court issues this injunction, Kesha will suffer irreparable harm, plummeting her career past the point of no return.
Whether or not the ruling can be reversed remains to be seen. Kesha's legal representatives and publicist have not responded to Romper's request for comment. It was Kornreich's ruling on Friday that effectively ended Kesha's attempts to get out of her contract with Dr. Luke. Also on the table were motions from Dr. Luke's lawyers to dismiss the case, but the judge postponed her decision until Kesha's legal team could produce more evidence and information regarding the alleged assaults. If her lawyers can produce evidence that helps prove the alleged assaults happened, then maybe the judge will take some action in Kesha's favor, but it doesn't look like that would be reversing the decision and releasing Kesha from the contract.
As the judge announced her decision to deny the injunction, Kesha reportedly burst into tears on Friday; fans outside chanted "Free Kesha now!" as the singer left the courthouse.