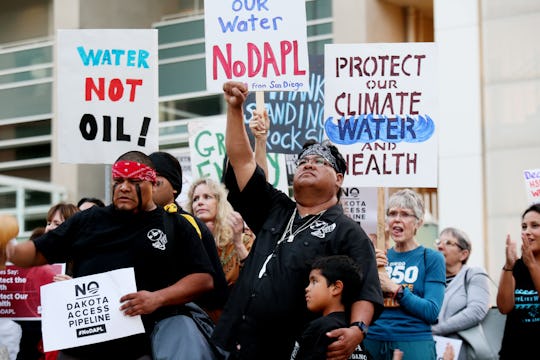 SANDY HUFFAKER/AFP/Getty Images
Could The Standing Rock Protesters Get Jail Time? Some Have Already Been Arrested
Tensions between law enforcement and protesters at the Standing Rock Sioux Reservation in North Dakota have been increasing for months. Protesters representing the Standing Rock Sioux Tribe, and those in standing in solidarity, have endured rubber bullets, attack dogs, pepper spray, and many arrests by both security guards and law enforcement officers for protesting the construction of the Dakota Access Pipeline. But could the Standing Rock protesters get jail time? Many have documented law enforcement officers meeting protesters, armed, and in riot gear, so it's anyone's guess how far those taken into custody will be dragged into the legal system.
For months, people have been protesting the construction of the Dakota Access Pipeline for its reported threat to the environment, the water supply, and its damage to sacred areas near the Standing Rock Sioux Reservation. The clashes between protesters and law enforcement have been documented, and the use of pepper spray, beanbag rounds, and high-pitched sound devices by law enforcement, have sparked concerns, and involvement, from people around the world who have expressed their solidarity in protesting the Dakota Access Pipeline.
According to NBC News, at least 141 protesters were arrested last week, according to a statement by the Morton County Sheriff's Department.
Dave Archambault II, the chairman of the Standing Rock Sioux Tribe, released a statement criticizing the law enforcement's "militarized" presence:
Militarized law enforcement agencies moved in on water protectors with tanks and riot gear today. We continue to pray for peace... We won't step down from this fight... As peoples of this earth, we all need water. This is about our water, our rights, and our dignity as human beings.
As far as charges related to the Standing Rock protests go, efforts have certainly been made – one notable case is acclaimed Democracy Now! award-winning journalist and host, Amy Goodman. Goodman, whose live coverage of the Dakota Access Pipeline protests helped bring widespread attention and awareness to what was happening, faced a "riot" charge – originally charged with criminal trespass. North Dakota's State Attorney Ladd R. Erickson filed the charges against Goodman on Oct. 14, Democracy Now! reported, but the case was later dismissed. Goodman labeled the dismissal a "vindication":
This is a complete vindication of my right as a journalist to cover the attack on the protesters, and of the public's right to know what is happening with the Dakota Access pipeline. We will continue to report on this epic struggle of Native Americans and their non-Native allies taking on the fossil fuel industry and an increasingly militarized police in this time when climate change threatens the planet.
But Goodman apparently isn't alone. According to Democracy Now!, Cody Hall, a #NoDAPL organizer of the Cheyenne River Sioux Tribe of South Dakota, was reportedly held in jail without bail or bond for three days before being released.
The stand-off at Standing Rock continues to need the world's attention, and despite the threat of arrest or jail time, activists aren't backing down.