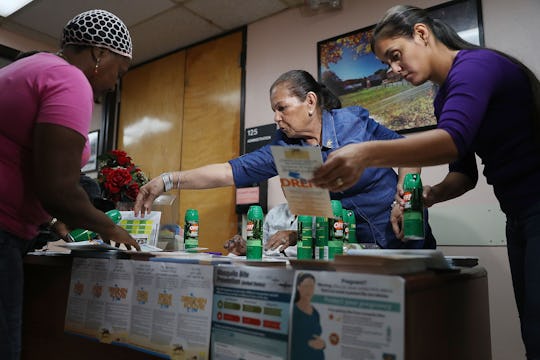 Joe Raedle/Getty Images News/Getty Images
Could The Zika Travel Warning Expand? These Areas Could Be Next
Florida has now identified 17 cases of locally-acquired Zika virus, and the Centers for Disease Control and Prevention have issued a travel warning for pregnant women to avoid the one-square-mile area surrounding the Wynwood neighborhood of Miami. It's currently the only area in the U.S. under a Zika travel warning, but it could expand if another outbreak occurs. Together, Aedes aegypti (the mosquito that's known to carry the virus) and its cousin, Aedes albopictus, have a range of over 30 U.S. states, according to the Washington Post, so anyone who traveled to a Zika-affected area and returned to one of those states could potentially spark another outbreak.
Tropical medicine expert Dr. Peter Hotez of the Baylor College of Medicine told The Associated Press (via CBS News) that he believes the travel warning should be expanded to all of Miami-Dade county, or possibly the entirety of South Florida. He said that the original area was identified based on the assumption that Aedes aegypti can only travel 150 to 200 meters in their lifetime, but some research suggests that they can actually travel up to 800 meters. On Monday, it was announced that a patient infected in the Wynwood neighborhood was there for a visit, and returned home to Palm Beach County with the virus, according to The New York Times.
Another troubling development is that one of the 17 cases of locally-acquired Zika in Florida had no connection to the other 16. On July 8, Zika was identified in a patient in Broward County, which is just north of Miami-Dade. The Times reported that the health department tested 70 individuals who may have come in contact with the Broward patient, and all tested negative, so a current outbreak there seems unlikely, although how the patient became infected remains a mystery at this point.
Florida and Texas have long been expected to be affected by Zika, as both states have had previous cases of dengue and chikungunya, two other viruses that are spread by Aedes aegypti. "[W]e're at the height of mosquito season in Texas," Department of State Health commissioner John Hellerstedt told the Post. Factor in the outbreak in Florida and the number of Texans who are attending the Olympics in Rio, he said, and "Local transmission here is likely at some point." Texas currently has 99 reported cases of Zika, all acquired either while traveling, though sexual contact with someone who traveled, or passed from mother to fetus. Of course, only 20 percent of those infected display symptoms, so the actual number of infected Texas could be closer to 500. If any one of them is bitten by Aedes aegypti, another outbreak could occur. As always, keep your windows closed and your skin covered in DEET.