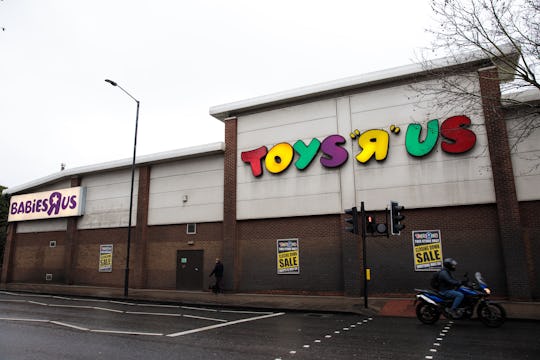 Jack Taylor/Getty Images News/Getty Images
Could There Be A Toys "R" Us Bailout? Here's Why The Store Is Probably Closed For Good
Toys "R" Us recently threw in the towel and announced that it'll be closing all of its 735 American stores. But the world wasn't about to let it go that easily, so, could there be a Toys "R" Us bailout? There's been no talk of one thus far.
Toys "R" Us filed for bankruptcy in September with $4.9 billion in debt, a vestige from its $6.6 billion acquisition by Kohlberg Kravis Roberts, Bain Capital Partners and real estate investment trust Vornado Realty Trust in 2005, according to CNBC. The retailer sold to financial buyers amid pressure as Walmart, Target, and others undercut its prices, but the debt from the buyout only exacerbated things — and, with the rise of Amazon, the toy company found itself unable to make the investments it needed to keep up. While the company intended to stay in business when it filed for bankruptcy, its holiday sales were far worse than ever anticipated.
But there's been no signs of a government bailout underway, like the one for the automotive industry a few years back. The U.S. government bailout of the auto industry lasted from January 2009 to December 2013, according to The Balance. The Big Three automakers approached Congress in November 2008 warning that, without a bailout, GM and Chrysler faced bankruptcy and the loss of one million jobs. While Ford didn't need the funds (it had already cut costs), it asked to be included so as to not suffer by competing with subsidized companies.
The Treasury Department invested $80.7 billion from the $700 billion authorized, according to The Balance. It lent money and bought stock ownership in GM and Chrysler, and it also provided incentives to spur new car purchases. But it doesn't seem like the same is going to be done for the toy industry.
This time, liquidation seems to be the route Toys "R" Us is taking. But billionaire toy manufacturer and chief executive of privately-held toy and entertainment company MGA Entertainment Inc., Issac Larian, has come up with a last-ditch effort to save some of the toy retailer's stores, according to The Real Deal. He recently launched a crowd-funding campaign to save the toy mogul — and many of the toy companies that would be affected by Toys "R" Us' bankruptcy. Still, his efforts may not be enough to stem the tides.
Larian — who gave the world Bratz dolls and the current hit toy LOL Surprise — and a few other investors have pledged more than $200 million to save Toys "R" Us, according to The Real Deal. And through his GoFundMe campaign that uses the hashtag #SaveToysRUs, he's looking to raise another $800 million to make a $1 billion bid to acquire "all or some Toys "R" Us assets through the bankruptcy process."
Larian has consistently emphasized the importance of keeping Toys "R" Us alive at all costs as a venue to showcase new toys, according to USA Today, saying that, if there is no Toys "R" Us, there is a toy business.
"There is a lot of value in the Toys "R" Us name, a lot of value in all the assets that they have," Larian reportedly told Bloomberg. "If Toys "R" Us is not here, I think the toy business as a whole will have a devastating year."
Toys "R" Us accounted for 15 to 20 percent of U.S. toy sales last year, according to CNBC. So it's no surprise that the company's announcements of liquidation has already affected toy makers like Mattel and Hasbro. Both companies' stocks dipped — Mattel's stock dropped 8 percent since the retailer was weighing a bankruptcy filing in September, and Hasbro's stock dropped about 4.6 percent, CNBC reported.
Larian even sold his first toys in Toys "R" Us back in 1979, and doing so since has been crucial to the success of his company — MGA said 20 percent of its products are sold in Toys "R" Us, according to CNN.
Without Toys "R" Us to sell their products, toymakers will need to rely on Amazon and will compete for the limited shelf space in big-box stores, according to CNBC. But, even if Larian's GoFundMe page raises the money to save at least 400 stores, there's no telling what the future would hold for the 60-year-old company.
In 2021, more than 2.14 billion people worldwide are expected to buy goods and services online, up from 1.66 billion global digital buyers in 2016, according to The Statistics Portal. That means that online competition is only going to get stiffer, as parents turn to sites like Walmart, Amazon and eBay for their purchases. In fact, even companies like LEGO and Mattel are offering direct sales through their websites these days.
While Larian believes that Toys "R" Us can still be saved — and, as of yet, $200,055,000 has already been raised by his campaign — statistics just don't seem promising for brick-and-mortars in general. And no government bailout seems to be underway to improve the situation.