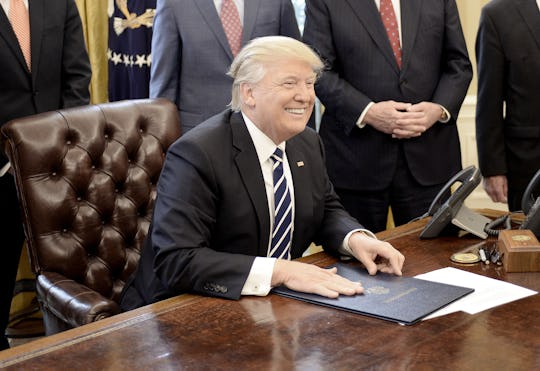 Pool/Getty Images News/Getty Images
Could Trump Be Impeached For Russia Communication?
The announcement that White House national security adviser Michael Flynn had resigned Monday as a result of his pre-inauguration communication with Russian ambassador Sergey Kislyak was incredibly concerning, but new details could suggest that it may have only been the beginning of a much bigger scandal involving ties between Trump and the Kremlim. On Tuesday, The New York Times reported that a number of Trump campaign aides and other associates "had repeated contacts with senior Russian intelligence officials in the year before the election," and that the communication was discovered by intelligence agencies during an investigation into claims about Russian hacking. The Russian government has since refuted the claim, saying the article was "not based on facts," but calls for Trump to be ousted from the White House are intensifying. Could Trump be impeached for the new Russia information? It's possible — but it wouldn't be easy. The White House hasn't responded to Romper's request for comment regarding the allegations of contact between Trump campaign officials and Russia during Trump's presidential campaign.
Although The New York Times report noted that there still doesn't appear to be evidence of collusion (and therefore, treason) between the Trump campaign and the Russian government linked to election interference, allegations that they were communicating at all are alarming if true. But The New York Times wasn't the only outlet to make the claim: CNN also alleged this week that a number of Trump advisers were "in constant communication during the campaign with Russians known to U.S. intelligence," citing multiple unnamed "current and former intelligence, law enforcement and administration officials" as sources.
And while the Russian government may have denounced the most recent reports, that hasn't always been the case: two days after the Nov. 8 election, deputy Russian foreign minister Sergei Ryabkov claimed that "there were contacts" between Russian officials and Trump's campaign team ahead of the election, and told Russian news agency Interfax, "obviously, we know most of the people from his entourage," according to The New York Times.
For now, Trump's public response appears to be one of deflection: in a tweet Tuesday, the President suggested that the public should be more concerned that there has been so much leaked information coming from the White House. And on Wednesday, Trump authored a slew of defensive tweets taking aim at the news media, the intelligence community, and of course, the Russian government.
Not everyone is buying it though. In fact, backlash over the continuing scandal regarding the relationship between the White House and Russia has led to reignited debate over whether Trump should be impeached — so much so, in fact, that #TrumpImpeachmentParty became a trending topic on Twitter.
Of course, it's not entirely surprising that many are hoping this could be the beginning of the end for Trump — after all, calls for Trump's impeachment began even before he took office. But it's also important to consider that impeaching a president isn't simply a matter of wanting him gone, even if the allegations against him can be proven.
According to Quartz, in order for Trump to be impeached as a result of his team's involvement with Russia, someone in the House of Representatives would have to formally call for his impeachment, and then a majority of representatives would have to vote in favor of it. The problem? Not only are actual presidential impeachments very rare (only two — Presidents Andrew Johnson and Bill Clinton — have ever been impeached by the House, and both were later acquitted by the Senate), given that the Republicans currently control the House, a whopping 24 Republicans would have to vote against him.
But even if that were to happen, Trump would still have to stand trial in the Senate in order to be removed from office, and even then, a simple majority wouldn't do. According to the Constitutional Rights Foundation, "two-thirds of the Senate must vote to convict the official," and the vote itself is based on whether they believe the grounds for impeachment, as outlined in the Constitution, were properly met. That means Trump would have to be found to have specifically committed "treason, bribery, and other high crimes and misdemeanors," in order to be fully impeached, and given that there are still many unanswered questions about what exactly his relationship is and has been with Putin and the Russian government, at this point at least, an impeachment seems very far off.
That's not to say though, that new information couldn't still come forward that could change the situation entirely, and it seems pretty obvious at this point that the Trump Administration has a lot of explaining to do when it comes to Russia. But since Trump and those in his inner circle still appear to be suggesting that the situation isn't as dire as many are claiming, it also wouldn't be entirely surprising if those answers end up being pretty hard to come by.