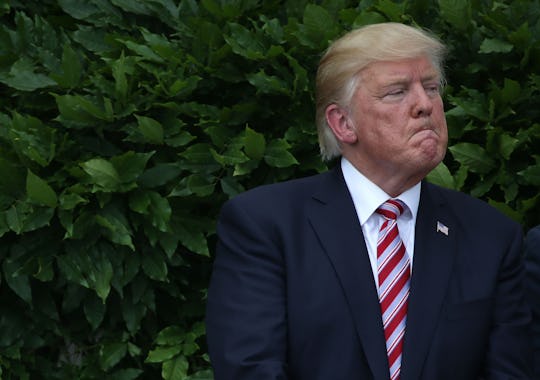 Alex Wong/Getty Images News/Getty Images
Could Trump Be Impeached For Obstruction?
On Wednesday, anonymous Washington D.C. officials told the Washington Post President Donald Trump is reportedly being investigated for obstruction of justice. The decision followed Trump's seemingly suspicious move to fire then-FBI Director James Comey in early May, after Trump reportedly told Comey he hoped Comey would "let go" of the FBI's investigation into former National Security Adviser Michael Flynn's Russian ties, according to the New York Times. If found guilty, could could Trump be impeached for obstruction of justice?
Cries for Trump's impeachment has occurred numerous times throughout his presidency, including when he fired Comey without much explanation. Now that Special Counsel Robert Mueller is reportedly leading an investigation into Trump's alleged obstruction of justice in the case of Comey's firing, Americans are now wondering once again if Trump could face impeachment. The answer is, even if Trump is found guilty, impeachment is unlikely. Not only is impeachment a very difficult thing to do, proving obstruction of justice is a hard and long legal road. Furthermore, it still remains murky if a sitting president can even be indicted for a crime.
Erwin Chemerinsky, a dean of the law school at the University of California-Irvine, used President Richard Nixon's impeachment as an example of this indictment and prosecution issue. As to whether a president can be indicted for a crime, Chermerinsky said to Politifact:
It is unresolved. The Watergate grand jury in 1974 named Richard Nixon an 'unindicted co-conspirator' because they did not know if they could indict a sitting president.
Although Chemerinsky cites the government's ability to criminally prosecute as "unresolved," Susan Rose-Ackerman, a Yale Law School professor told Politifact:
The president can be accused of anything, but he cannot be prosecuted while in office, on the grounds that it would be a distraction from leading the government.
Therefore, the only loophole that would allow a sitting president to face some ramifications for a crime would be for prosecutors to put forth a civil suit. In 1997, Paula Jones sued President Bill Clinton for sexual assault, a situation courts resolved by ruling there couldn't be a criminal case against Clinton in the form of a civil suit.
Considering that prosecution is unlikely for Trump, the next step would be to examine the likelihood of the GOP-controlled Senate and House moving forward with articles of impeachment. The House Judiciary Committee would first have to first pass articles of impeachment before it reached the Senate. Once articles of impeachment made its way to the Senate, there would be a trial, with Senate members acting like a jury and House members taking on the role of prosecutors. If Mueller's investigation does prove Trump did obstruct justice, the House could use that evidence to draft articles of impeachment and to argue their case at trial. Considering the GOP has shown unwavering support for Trump controversy after controversy, it's unlikely it would go through with the impeachment process.
On Monday, Democratic polling firm Public Policy Polling showed 47 percent of Americans approve of Trump's impeachment. Despite the growing support for Trump's impeachment, complicated legalities as well as overwhelming GOP support for him make that scenario almost impossible to foresee. The only likely possibility that would end with Trump's removal from the White House would be if he resigned, like Nixon did in 1974. If Trump is found guilty of obstructing justice, then a resignation could be the smartest route. Considering Trump often favors doing the opposite of what's best for himself, this is also an unlikely option.