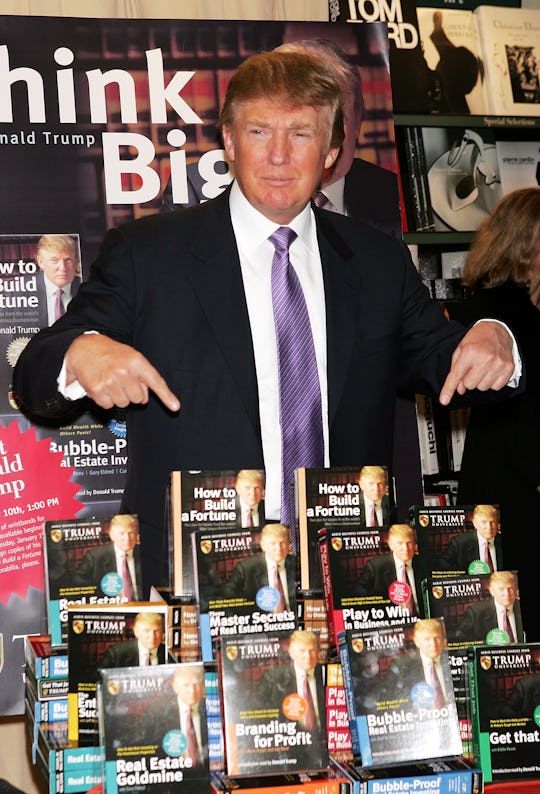 Scott Gries/Getty Images Entertainment/Getty Images
It's Tricky To Impeach Trump Over Trump University
Not too long ago, Donald Trump found himself in court after former students of his now defunct for-profit education company, Trump University, claimed that they were misled by his promises to teach them success in the business world by revealing the president-elect's "secrets" to investing in real estate, according to The New York Times. Earlier this week, a federal judge reportedly gave preliminary approval to a $25 million deal Trump agreed to pay to settle the series of fraud lawsuits, which New York's attorney general called a "stunning reversal" for Trump last month, according to NPR. But one law professor has argued that Trump could be impeached over Trump University in addition to the various sexual assault or harassment cases against him before he officially takes office on Jan. 20. Romper reached out to Trump's team for comment on the settlement agreement and is awaiting a response. Trump has denied all of the sexual assault or harassment allegations against them, saying the women are lying and that he doesn't know any of them.
There will be some tricky legal hurdles to impeach him over Trump University, because Trump's situation is mostly based on the legal system we have in place for the impeachment process here in the United States. According to Vanity Fair, no president in history has been "impeached for misdeeds committed prior to taking office."
Back in September, University of Utah Law Professor Christopher Lewis Peterson wrote that he believes that Trump has committed fraud and racketeering and could be impeached for them as "high crimes and misdemeanors," which falls under an article in the United States Constitution.
Peterson wrote:
Unlike his promised crimes yet to come, the illegal acts in Trump's high pressure wealth seminars have already occurred. Indeed, a federal judge appointed under Article III of the U.S. Constitution has already determined that Trump's alleged actions, if true, constitute fraud and racketeering... Congress would be well within its legal rights under the Constitution to insist upon a President who is not a fraudster or a racketeer as defined in its own law.
According to Politico, Trump's attorneys have "denied any fraud" and have argued that "any inflated boasts about Trump University were, at worst, the kind of sales 'puffery' that courts have found not to be legally actionable."
Politico reported earlier this week that Trump University must produce the $25 million to pay for the settlement by Jan. 18 and if it can't, Trump has to come up with the money himself.
If the settlement officially gets approved and is paid out to the former students before Inauguration Day, an impeachment before Trump takes office would be a very difficult hurdle to argue with Congress, because Republicans will soon run the show. So, it appears that it would have to be proven that the president-elect had done something disastrous to the nation — such as "taking money from Vladimir Putin" or "launching missiles at Hawaii," according to Vanity Fair — during his first term for him to be impeached.