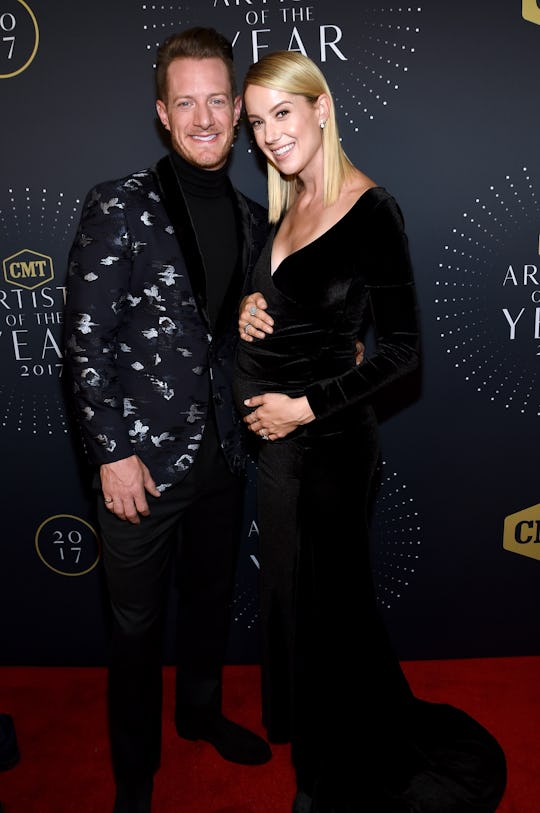 Rick Diamond/Getty Images Entertainment/Getty Images
Country Star Tyler Hubbard Tasted His Wife's Breast Milk & Went Back For More — VIDEO
Parenting makes you do tons of things you never though you would. Just ask country star Tyler Hubbard who drank his wife's breast milk just to see what it tasted like. His wife, Hayley, posted a video on Instagram of Tyler in the kitchen, bottle in hand. She captioned the post, "When your husband takes trying your breastmilk to a whole new level." And he really did.
First you see the Florida Georgia Line singer take some solid gulps from the bottle all while his wife laughs along. He turns to the camera, decided, and says that it "tastes like almond milk." Then, he goes in for a second try! This time it looks a little harder to get down and he stops before finishing the rest, calling the milk "sweet."
But what's really sweet is how Hayley turns the camera to baby Olivia, who sucks her thumb watching her dad steal her dinner. "It's nice of you to share," her mom says. The whole thing is just too much to take in at once, you're going to have play the video on repeat a few times for the full effect to actually believe what you're seeing. Hubbard won't be the first guy curious about what his baby is drinking, but he's definitely a champ for slugging *that much* of the "sweet stuff."
Fans were definitely impressed with his sense of adventure, with many people supposedly tagging their partners and asking if they were down to try some, too. One fan wrote to her tagged contact, "Are you gonna try my boob milk when the time comes?"
While others just complimented the bond he had with his family, "I think it's great to show the bond he has with his wife and his beautiful new baby," one other fan wrote in the comments. Others were seemed to be both a bit grossed out and amused by the whole thing, judging by all of the shocked monkey and laughing-crying emoji in the comment section.
The Hubbards welcomed their first child together on Dec. 23, 2017. The couple announced their daughter's arrival the very next day with a statement to People, saying:
We're so overwhelmed with joy and already more in love than we could have ever imagined with this little angel that God has given us. Olivia is the best Christmas gift we could have ever asked for.
The Georgia Line frontman added, according to People, "There's a lot that we're going to get to learn. Hayley and I both really love learning and growing as people. For us, it's the next phase and the next stage of life that God can really teach us a lot and show us patience … and selflessness." From the looks of it, they're also learning that being new parents can be a lot fun, even if it's exhausting and filled with diapers most of the time.
The couple has been oozing with joy since her arrival, too. On Instagram, Hubbard announced the birth by sharing the People pictures and captioned it:
We love this little girl more than words can describe and it hasn't even been 24 hours yet,. Our life has forever been changed for the better. I can't wait to share more photos with y'all. I'll try to contain myself from being the annoying parent that post 50 pics a day but I've already taken over 100 so forgive me.
He's so obsessed with her, that he just had to try some of her breast milk. Hubbard's not the only guy into tasting his partner's breast milk, believe it or not. Recently, more men have been trying to get their hands on breast milk through donors as a health drink, according to The Cut. Yes, really.
Men claim that it gives them energy and has all the nutrients needed to beef up at the gym. OnlytheBreast.com, for example, has had a section for "Men Buying Breast Milk" since it was founded, TODAY reported. Founder Glenn Snow said in an interview with the outlet that, "We think breast milk is amazing and can be used for many health and wellness purposes regardless of the age or gender of the person seeking its benefits."
Experts disagree, though. It's not like breast milk is not safe, but it's not really doing men any good either, as reported by SELF. There aren't any health benefits. But if your partner is just as curious as Hubbard was to get the whole baby experience, a little taste clearly doesn't hurt.
Check out Romper's new video series, Bearing The Motherload, where disagreeing parents from different sides of an issue sit down with a mediator and talk about how to support (and not judge) each other's parenting perspectives. New episodes air Mondays on Facebook.