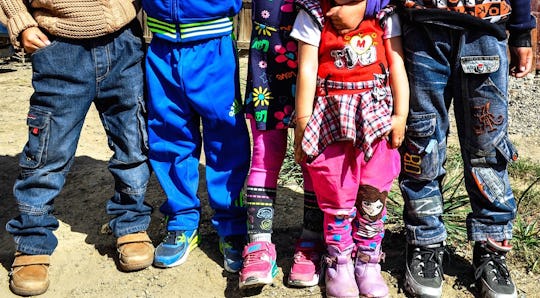 Pixabay
Couple Adopts 5 Siblings From Foster Care To Keep Them Together On National Adoption Day
A couple in Arizona celebrated National Adoption Day last week in the most literal way possible: they welcomed children into their family. But this couple didn't just adopt one child who needed a home — they adopted five. The couple adopted five siblings from foster care to keep them together, and the story will warm your heart.
Each year, the weekend before Thanksgiving, National Adoption Day is celebrated throughout the United States. Many efforts have been started to raise awareness of the need for adoptive families for over 100,000 U.S. kids, but one of the most widely perpetuated myths about adoption is that there aren't enough families willing to adopt. In fact, according to the National Adoption Day website, recent statistics indicate that 72 percent of Americans have considered adopting a child from foster care. What's needed to make these adoptions happen, however, is more resources to help willing families connect with kids who are eligible to be adopted. That's what the National Adoption Day campaign hopes to achieve.
It certainly made a difference for one Arizona family this year: Brenda and Curt Heuer, who have been fostering five children for the last year, officially adopted the siblings on National Adoption Day last week. The siblings — ranging in age from 2 to 9 — had been with the Heuer's since February of 2015, according to People. Having discussed the possibility of adoption with the children, who desperately wanted a family but did not want to be separated, the Heuer's decided that they would adopt all five siblings.
It's not uncommon for siblings to be separated when they enter foster care, though over the last decade initiatives have passed that aim to help brothers and sisters stay together not just as they move through the foster care system, but when they are eventually adopted or reunited with their birth families. According to the Child Welfare Information Gateway, as many as two-thirds of kids in care also have a sibling in care.
The Heuers have been fostering kids for years: over the last decade they've fostered more than 52 children, as they told the The Daily Courier in Prescott, Arizona. Their most recent foster children, five siblings, came to them almost two years ago and when the topic of adoption came up, the Heuer's didn't hesitate; they knew if they went into the "open market," they likely would be split up.
"That's hard on the kids when they've been together for so long," Curt told The Courier, speaking of the possibility of separation. "So we talked about it for a while and decided we'd do it."
Even though they've now completed their family, the Heuer's admit that they haven't closed the door on fostering more children, if there's need. When asked if the couple plans to keep their home open to more foster youth Brenda told Yahoo News, "You never know!"