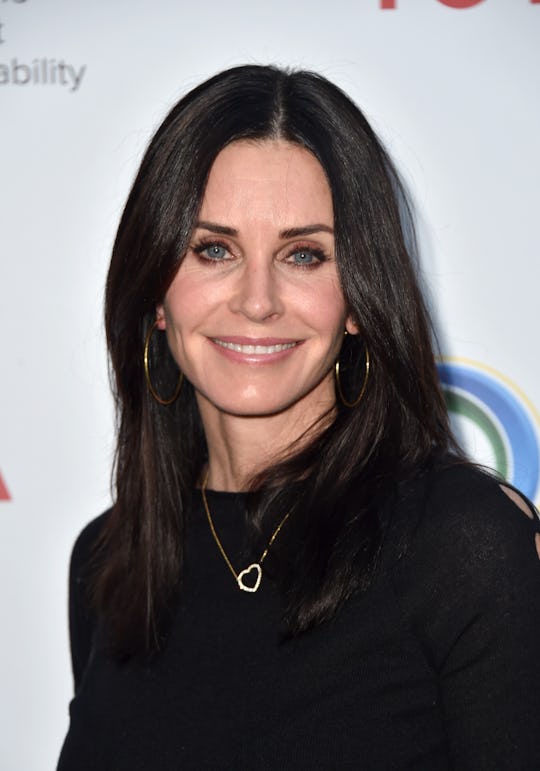 Frazer Harrison/Getty Images Entertainment/Getty Images
Courteney Cox's Daughter Is Environmentally Savvy
Courteney Cox's life has changed a lot since her days playing Monica Geller on Friends. Besides having another hit TV show in Cougar Town, she's been busy raising her daughter with ex-husband David Arquette. And now, Courteney Cox says her daughter has taught her some important lessons along the way, specifically about being more environmentally conscious.
Cox's daughter, Coco Arquette, is 12 now, and she's ready to teach her famous mother about how to reduce waste and save the planet. While attending a gala for the UCLA Institute of the Environment and Sustainability, Cox told Us Weekly that Coco's intervention was part of the reason that she was knowledgeable about the issues at hand, saying,
She goes to a school that's extremely progressive and luckily she knows almost more than I do. She teaches me everything. Recycling, not wasting, conserving water.
Cox is certainly no environmental slouch herself, serving on the committee for the Institute's event, and lauding their dedication to doing the important scientific research about sustainability that is so vital right now.
Cox has clearly put in a good deal of thought about how to raise her daughter. Beyond sending Coco to a school that educates her about important issues, Cox also made a conscious effort to co-parent well with Arquette, from whom she divorced in 2013 after a 14-year marriage.
Cox told Harper's Bazaar back in 2011, back when she and Arquette had first separated, that they were making an effort to protect their daughter during a somewhat rocky and public process, saying,
Luckily, we've always had two houses, so there was no change in her living unit. And we both work a lot, so that wasn't a huge adjustment. She's our number-one priority. No matter what happens, she'll be okay because she knows that she is completely safe, loved, and we'll protect that more than anything in the world.
It seems that their hard parenting work has paid off. Perhaps Coco will be an actress like her mother (word is that Cox thinks Coco could be "the next Jennifer Lawrence"), or perhaps she'll be the crusading environmental champion we need.
Although Coco has so far stayed mostly out of the limelight, Us Weekly noted back in October when Coco was photographed with her mother that she was "all grown up" and "hardly recognizable."
So, bravo to Coco for raising awareness! And hey, maybe she could go have a little chat with Scott Pruitt at the EPA. No pressure.