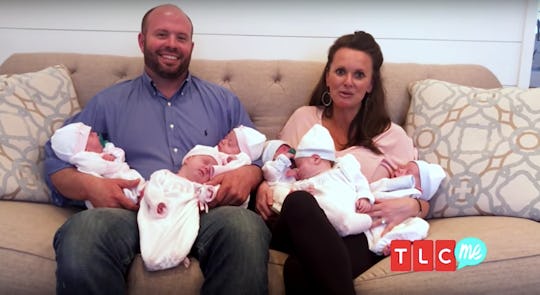 TLC
Courtney & Eric Waldrop Meet All Six Babies In This 'Sweet Home Sextuplets' Clip
When Sweet Home Sextuplets premiered on TLC on Sept. 18, it introduced viewers to the family of Courtney and Eric Waldrop. Already parents to three young boys, they were also preparing for the arrival of six more little ones all at once. Their many challenges are documented on the show, but in Episode 2 they get a moment of pure, undiluted joy. Courtney and Eric hold their babies for the first time in this exclusive Sweet Home Sextuplets clip, and it's seriously heartwarming.
Though the series has only just begun, Courtney and Eric's journey is already a complicated one. They welcomed their oldest son Saylor nine years ago, but then learned that Courtney had a blood clotting disorder that could make future pregnancies risky. Fertility treatments led to the birth of twin boys Wales and Bridge (now six years old), but one more attempt to conceive resulted in Courtney becoming pregnant with sextuplets. The babies arrived early and had to remain in the hospital for some time before they could be brought home, and in this exclusive clip the proud parents finally get to hold all six in their arms. Previously, they had only been able to hold them one at a time.
Sweet Home Sextuplets airs Tuesdays on TLC.
When the clip begins, Courtney and Eric are excited that they finally get to hold two of their newborns at once. There are three girls and three boys (named Rivers, Rayne, Rawlings, Layke, Tag, and Blu), so Courtney volunteers Eric for two of the girls while she offers to hold two of the boys. They each settle into their respective chairs to enjoy some quality time with their little ones. They remark on how different the fraternal siblings look and how surprisingly awake Tag is (while he yawns widely, which, #mood).
Then the nurses arrive with the other two sextuplets. Rawlings joins sisters Rivers and Rayne with her dad; Blu is balanced on Courtney's chest as she holds his brothers Layke and Tag. Courtney exclaims that she's going to cry, which she does while she and Eric also share surprised laughter. "When you sit and think back, how we met as just kids and where we're at today, it's almost like we're living in a fairytale," Courtney says in a confessional segment. She and Eric were childhood sweethearts who stayed together through 22 years and nine kids, which the clip highlights with a couple of throwback photos.
"Very blessed, and we don't know quite what we did to deserve it," Courtney continues in the confessional. Eric adds that they didn't do anything to deserve it; they're just blessed. When Courtney gets teary-eyed again, Eric gives her a kiss on the temple and they share whispered "I love you"s. Then the clip cuts back one last time to Eric and Courtney in the hospital, arms full of kids, seeming totally thrilled.
"What to Expect When You're Expecting Six" will let viewers in on Courtney's labor and delivery, as well as very special moments like this one.