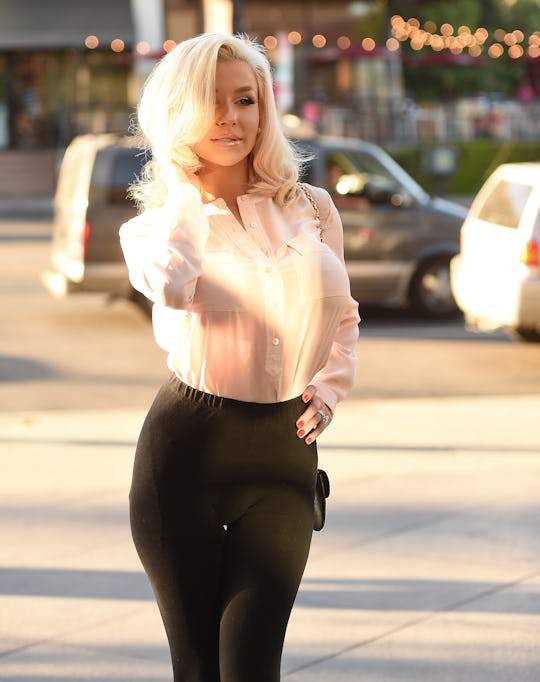 Michael Buckner/Getty Images Entertainment/Getty Images
Courtney Stodden's Letter To Her Unborn Baby After A Miscarriage Is Deeply Moving
It can be difficult for those who have never experienced a miscarriage to understand the depth of grief that follows the loss of an unborn child. Courtney Stodden's letter to her unborn baby powerfully communicates the pain of miscarriage. By opening up about her experience on social media, she's able to help other moms who've lost pregnancies to know that they are not alone in their pain.
In May, Stodden announced that she and husband Doug Hutchison were expecting, Us Weekly reported. She was only four weeks into her pregnancy when the news went public, and she said the experience was "bittersweet" as she attempted to navigate the many emotions of the moment. Many fans learned of the couple's loss this month; Stodden tweeted about her miscarriage in mid-July, according to Refinery29. She wrote, "I love you my sweet angel" and "God is embracing you" before posting an image overlaid with text: "Babies lost in the womb were NEVER touched by fear, they were NEVER cold, NEVER hungry, NEVER alone & importantly ALWAYS knew love." On July 19, she tweeted, "Grieving..." and wrote the next day, "Feeling so empty rn." This Thursday, Stodden posted a heart-wrenching image on Instagram:
Many fans reached out to Stodden over the past few weeks to offer their condolences over social media. For much of the time since the miscarriage, she balanced digital vulnerability with cultivated opacity, often posting Instagram photos without captions. It made the letter she posted on Thursday even more jarring. Written to her "precious Angel," the letter details all of the things Stodden wishes she'd been able to do with her child, from holding their hand to looking into their eyes, People reported. Stodden wrote that she'd never get over the loss: "I hope you know how much I miss you growing inside of my tummy. I hope that you know I wanted to give you life... a beautiful life - and desired so much to watch you grow into an incredible human being."
Stodden's posts built a bridge to those who've never experienced a miscarriage, helping them to understand the emotional aftermath. To help someone who had a miscarriage, it's important to grieve with them, according to Psychology Today. One of the worst things a friend or family member can do is minimize the loss; instead, it's important to walk with them through the challenges of the time. This may mean making dinner or sending flowers, but it can be most valuable just to offer company, support, and a listening ear. Stodden illustrates the magnitude of the pain; the love of a good friend can help lift the burden of devastation.