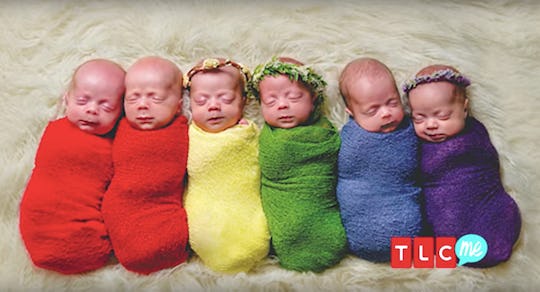 TLC
Courtney Waldrop Struggles To Find Balance In This 'Sweet Home Sextuplets' Clip
On Sweet Home Sextuplets, Eric and Courtney Waldrop have a lot to juggle: not only are they raising newborn sextuplets, but they have three older kids who need attention just as much. In this Sweet Home Sextuplets exclusive clip, Courtney Waldrop gets real about a relatable mom struggle: balancing all of your responsibilities and feeling stretched way too thin.
In "A Mother's Day Surprise," Courtney finds herself momentarily overwhelmed because she feels pulled in so many different directions. The sextuplets (Blu, Layke, Rawlings, Rayne, Tag, and Rivers) are still so little and in need of constant care, but she doesn't want her older sons Saylor, Wales, and Bridge to feel like they're getting less of their mom's time.
The clip opens with the family outside trying to enjoy some quality time together. The older boys are playing with their dad, but they want Courtney to come and join in too. The trouble is, she's sitting under a tree surrounded by crying sextuplets and can't extricate herself. "She's not going to leave the babies laying there screaming," Eric tells his sons.
This wasn't exactly how Courtney wanted the outing to go, either.
In a confessional segment, Courtney explains, "Today, I wanted to let it be all about the big boys. I wanted it to be a time that I could focus on them and let them see that things are gonna be just like it was before the babies. But it's just not working out."
Courtney calls the boys over to her blanket full of babies so that they can have a little chat. She wants the older boys to feel free to talk to her whenever they want about whatever they want — especially if they need to discuss the changes in the family that resulted from the birth of the sextuplets. "Now listen, you know any time anything ever bothers you with the babies, make sure you let us know, okay?" Courtney says to her sons. They assent but don't share anything yet.
Back in the confessional, Courtney opens up further about what she's struggling with. According to her, the last thing she wants is to feel like she's "not able to be in it with them one hundred percent" but it's difficult to manage when she has six newborns who need her almost every minute of the day.
Courtney begins to cry as she continues:
That's probably the one thing that like makes me the most sad, is not being able to do everything for everybody. You know, the big boys are just real like, 'Do this with me, Mommy. Come here with me, Mommy. Come outside with me, Mommy.' And it's all day long and it's so hard. Cause I'm trying to and then I'm trying to also take care of the babies cause I still want to take care of them also. It's just so hard. So hard. It's really been bothering me a lot here lately, that's why I'm, like, breaking down about it.
Back on the grass, the older boys are ready to play again, though Courtney still seems concerned. The clip ends uncertainly, but Courtney's dilemma is totally understandable. While it may be natural for a mom to want to handle everything herself, it's just as normal for her to not be able to. One human cannot meet every single need of nine other humans simultaneously, especially when six of them are babies. That's just math!
The entire family is likely still adjusting to their new additions, and time will help all of them find out how to better balance everything. Courtney's struggle to do so is undeniably tough for her, but it's also something a lot of moms deal with, so she's definitely not alone in this.
Sweet Home Sextuplets airs Tuesdays at 10 p.m. ET on TLC.