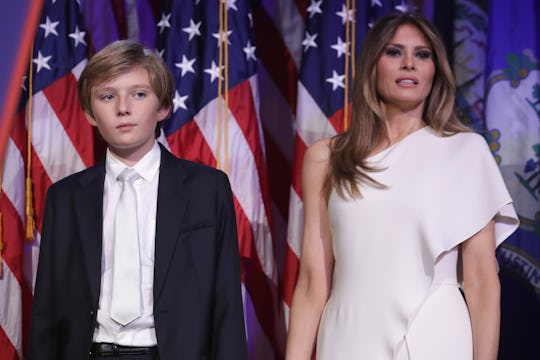 Chip Somodevilla/Getty Images News/Getty Images
Creator Of The Barron Trump Autism Video Apologizes, & It's An Important Move Forward
A video uploaded to YouTube concerning President-elect Donald Trump's son, Barron, sparked a lot of conversation, and backlash. The video in question featured actual clips of the President-elect's 10-year-old son with captions suggesting that his behaviors are in ways consistent with those on the autism spectrum. Comedian Rosie O'Donnell, a known Trump critic, apparently shared the video to her Twitter account, according to TMZ, which prompted wide-ranging responses from her followers. On Tuesday, the creator of the Barron Trump autism video released an apology, citing an update that they had been in touch with Melania Trump's lawyer. The whole situation certainly calls for an interesting conversation on how autism is discussed in society.
As TMZ reported, the YouTube user uploaded a video titled "Is Barron Trump Autistic? #StopTheBullying" on Nov. 11 (the video has now been removed). In the video, James Hunter, its creator, uploaded examples of clips of Barron where he can be seen clapping but seemingly without actually connecting his hands, or seeming (by interpretation of course) disengaged onstage at the Republican National Convention. Hunter cited these behaviors, along with a few other examples, as possibly being connected to autism. (Here's the Centers for Disease Control and Prevention's list of signs of the Autism Spectrum Disorder).
The creator behind the video claimed its purpose was to bring attention to ASD, and to encourage people to stop making negative comments about Barron. In the now-deleted post, the video creator claimed they had been diagnosed with autism at a young age, and therefore felt personally connected to Barron's supposed behaviors in question.
As Variety cited to, O'Donnell shared a similar sentiment on her website, noting that her 3-year-old daughter was diagnosed with ASD, and that she shared the video because she has been "immersed" in conversations surrounding autism:
When [I] saw the anti bullying video that mentioned [Barron] it spoke to the symptoms many ASD kids have it was educational and informational these symptoms so many do not understand– [I] thought – how amazing IF IF it is true IF it is true – i tweeted from my heart it would help so much with the autism epidemic...
Many commenters on O'Donnell's website have taken to the comedian's defense, by pointing out that suggesting Barron, or anyone for that matter, has autism should not be deemed insulting – especially considering the ongoing efforts to combat stigmas surrounding autism – but instead as a potential opportunity to help spread awareness. One commenter wrote: "Rosie, we have an adopted son who has autism and everyday is a struggle for him all we ever want is to see him smile see him happy…I understand what you said and find it not harsh to anyone… people [don't] understand Autism and sometimes people [don't] wanna understand it either… if Mr. Trumps son has autism than [I] would hope as [our] president he will share this and help our children."
Others shared opinions in the comment section that said publicly diagnosing a child (and likely, from a non-physician's standpoint) — and for all of the world to see online — is inappropriate.
Regardless, the YouTube video definitely shed light about how ASD is discussed, and if nothing else, hopefully it will help spread awareness about ASD and the importance of early detection.
The video's creator uploaded an official apology to YouTube on Tuesday.