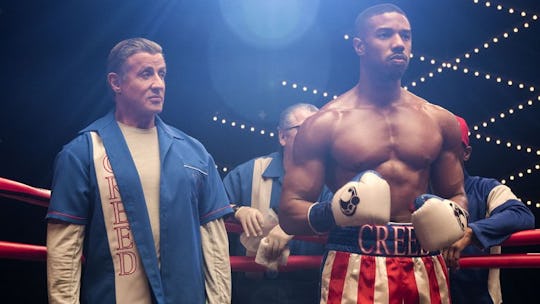 Barry Wetcher/Metro Goldwyn Mayer Pictures/Warner Bros. Pictures
'Creed II' Is The Best Parenting Movie Of 2018
Maybe I'm just a sucker for training montages involving car tires being flung at a character's abs as he does sit-ups in an steampunk desert gym, but I really think that the best movie about parenting of 2018 was Creed II, ostensibly the eighth Rocky movie. Since the first movie, the character of Rocky (Sylvester Stallone) has challenged our ideas about what a tough guy looks like — there he was in 1976, feeding his pet turtles Cuff and Link, and trying to win over Adrian with a gentleness that belied the fact he looked like he was going to burst out of his undershirt.
Creed introduced us to Adonis "Donny" Creed (Michael B. Jordan), the similarly hard/soft offspring of Apollo Creed, raised in obscurity and bent on following his father's footsteps into the punch-in-face heroics of boxing. Early in Creed II, Donny proposes to his girlfriend Bianca (Tessa Thompson), who then finds herself unexpectedly pregnant. As it did in Rocky II, this revelation changes the arrangement of the chess pieces so dramatically that you wonder what mattered at all about fighting prior to having a family, when Rocky/Adonis had nothing to lose. How hard is running up a bunch of stairs to a kickass orchestral score really when you're a single man with everything to prove and uninterrupted sleep?
The latter defines Donny's Ukrainian opponent, Viktor Drago (Florian Munteanu), who lives for nothing but throwing about shipping pallets in a the bleak periwinkle dawn of the former USSR. Viktor is a machine capable of first-round knockout punches that leave men splayed on the canvas, gullets open like trout. He wants Creed's title, and it is a singular goal: his dad has taught him to kill, in a very Soviet flavor of toxic masculinity. This was a major theme in 2018, and what better way to examine it than with men punching each other repeatedly in the face from a variety of camera angles?
The movie is great though, because that same theme plays out in the relationships of Rocky and his estranged son Robby (Milo Ventimiglia!); that of Adonis and his dead father Apollo; as well as that of the lonely Ivan Drago (Dolph Lundgren of Rocky IV) and his poor meatcake son Viktor. Like that first fist bump before the bell clangs, the characters all pass on their shortcomings so easily from one generation to the next.
I haven't yet caught all the Rockys; imagine my despair when I found out Rocky was all alone just a few decades on from the glory of beating Clubber Lang (Mr T.) as, out in the audience, his son Robbie asked his mom, "Is Daddy having fun?" Shown sitting on his folding chair in front of the graves of Paul and Adrian, Rocky is really in this film to ward off Ronny from making the same mistakes — he's there in the hospital when baby Amara Creed is born, and tells Ronny that the birth of his son was the best day of his life.
There's a reason grown men cry watching Rocky movies is what I'm saying.
While the entirety of Adonis' childhood is covered in the opening minutes of Creed, from foster care to juvie to Mary Anne Creed's mansion (here she is played by Phylicia Rashad) in Los Angeles, we never know much about where Rocky came from — we know his father told him he had half a brain, he was Italian working class, an everyman, but his religion is clearly more important than his old man. He had heart, but we're not totally sure where he got it. In Rocky III, we get touching scenes of him reading Pinocchio to little Robby in that same goofy drawl that couldn't pronounce the cheat cards in the swanky commercial shoots of Rocky II (when also, he promised to wait to meet his baby until Adrian woke up — my god). There's a reason grown men cry watching Rocky movies is what I'm saying.
The least well-shaded villain in Creed II is in fact Ivan's ex-wife Brigitte Nielsen, whose punishing version of maternity (as soon as I saw those frosty eyelids, I knew to be afraid) is really a rarity in the Rocky movies, where patient, supportive women like Adrian (Talia Shire) and Apollo's Mary Anne (who raises her late husband's love child!) largely exist to remind the heroes of what they have to lose.
Adonis has copped some flack over the scene in which Bianca leaves him floundering with his infant daughter when she heads to the studio. I'm a little sympathetic — he obviously doesn't have boobs, and dads often need to be given a sink or swim moment to take charge with infant care. Maybe I'm overly sentimental but watching him box in front of his baby's car seat carrier was a solid moment for me, and it was ballsy to show Bianca taking herself off for some me-time without feeling guilty about it.
Bianca, we learn in Creed, is a musician with progressive hearing loss. She begins to learn to sign in that movie and, better than her partner, understands that you do the most with the time you have. Creed II brings us the question of whether her baby will inherit her hearing loss — a worry best addressed by Rocky, who tells Donny that he shouldn't feel sorry for her if she is deaf; she won't feel sorry for herself. Parenting, my friends.
In Creed II, Donny takes his daughter to meet her grandfather at his gravesite, and we understand that he doesn't just need to find a way to converse with the legacy of his father, he needs to learn to speak a new language with his wife and daughter. That is the real evolution — the creation of a new family.
Yes, it is a movie in which men take turns spitting blood into a bucket and having their eyes ballooned shut as their wives and mothers wince in the stands, but talking about parenting without involving men, who are often parents, has its limits. What the latest Rocky movie shows us, through yet another epic training montage — this time replete with medicine-ball necklifts — is that, step by step, punch by punch, with enough heart, a man becomes a great dad.
This first-time mom wants to have a home birth, but is she ready? Watch how a doula supports a military mom who's determined to have a home birth in Episode One of Romper's Doula Diaries, Season Two, below. Visit Bustle Digital Group's YouTube page for the next three episodes, launching every Monday starting November 26.