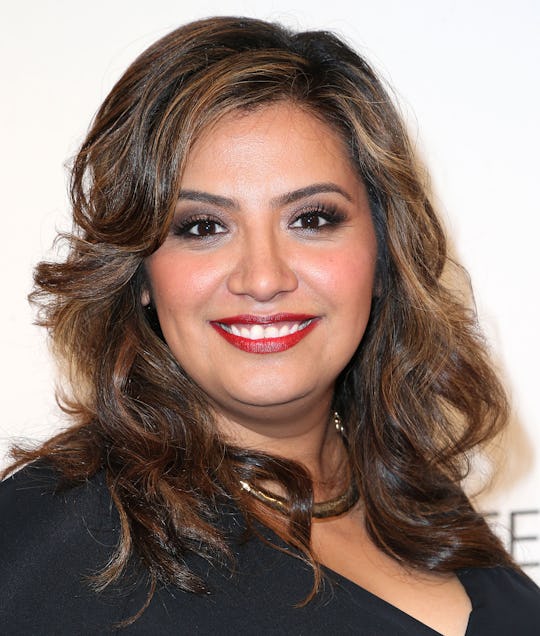 Frederick M. Brown/Getty Images Entertainment/Getty Images
'Cars 3' Allows Cristela Alonzo To Create A Path For Young Girls
For years, Hollywood has missed the mark when creating female characters, often boiling them down to one of two tropes: the romantic interest or the unintelligent friend who acts as comedic relief (but you're not laughing with her, you're laughing at her). Earlier this year, San Diego State University's Center for the Study of Women in Television & Film reported that women had a record year of making up 37 percent of major characters, and 29 percent of protagonists in the top 100 films in the U.S. box office. While that number is rising, it's not something that filmmakers should become complacent about — which is why it feels so good that the latest animated feature in Pixar's Cars franchise, which was created for kids encourages female empowerment. And something the star of Cars 3, Cristela Alonzo, can really get behind.
The third installment of the franchise introduces a new character to the mix — Cruz Ramirez, voiced by Alonzo. Fans of the film will be happy to see classic elements of Cars throughout the movie, but one theme that feels new is female empowerment. For Alonzo, it's kind of "weird" that we even talk about it in our phone interview the day before the film releases. "It really bothers me that we've gotten to this point where such a simple lesson is such a big deal," Alonzo says. Of course, she's thrilled to be apart of a film franchise that has such an important message for its young viewers. Since Cars 3 is animated and rated G, it's safe to say that the youngest members of its audience won't understand what female empowerment is. But maybe that's a good thing, since showing these films to kids at such an early age will hopefully bake the message in before they know any different.
(Spoiler: the following contains spoilers from Cars 3.)
"It's so weird that we actually have to see a female car win to remind ourselves that women can actually win in such a male-dominated field," Alonzo says, later saying how strange it is, as well, "that we have to remind people that women are capable of doing so much — at times it's frustrating." Of course, the comedian also notes how "wonderful" it is that we're actually at a point where we can accept strong female characters telling the story and carrying it. "I love that kids can learn [about empowering women] from such an early age... hopefully it will open up [to] more stories and more movies..."
"'Oh, Lightning McQueen, I'm so glad you showed up to teach me confidence.'"
The film's portrayal of gender dynamics is not totally perfect. In one review of the film, Variety's Owen Gleiberman named the film a "girl-power movie." He said in his review, "Cruz Ramirez is a trainer because she never believed in herself as a racer, and it's up to Lightning to set her straight." It's a problematic message, at best, to relate to young children that a woman's success is dependent on a man's realization of her potential. When asked what she thought of that summary, Alonzo lit up. "'Oh, Lightning McQueen,'" she says, "'I'm so glad you showed up to teach me confidence. I didn't know what that was.'" She's joking, of course, and she adds that that's not the whole story.
"It's not about a man coming in and basically mansplaining confidence to Cruz," Alonzo says, but she admits that her character does lack conviction. "We have to understand why she lacks confidence," she says. "It's not because she's a woman, it's because her family didn't understand what she was trying to do." She says that the lesson itself is very simple, "If you need help, and somebody capable is helping you, then you succeed because of that. Regardless of whether you're a man or a woman."
Additionally, the relationship between McQueen and Cruz stands out because it is purely platonic. "We need to show that women don't necessarily need to look for Mr. Right," she says. "[It's a] friendship where [Cruz and McQueen] can learn from each other."
Alonzo says she identifies a lot with Cruz — "it's actually completely me," she says. "I would break into these stories about my childhood and stories about stand-up and they always felt soulful and honest... When they saw what I brought to the character, they actually started changing the role and changing the story. So originally, Cruz was a sidekick, and not as prominent as she is now." Along with bringing her own story to Cruz's, and elevating the character to a protagonist of the film, Alonzo says that she and Cruz both share the same longing for achieving their dreams. "Sometimes you have these dreams, and they're dreams that are foreign to everyone around you," she says, noting that she didn't always have the motivation she needed to pursue her own dream.
"I didn't have anybody," she says when I ask if she had her own McQueen, someone who boosted her trajectory. "I've always been either the first one to do something or one of the first, and when you're the first, you really have a machete and you're clearing your own path through the jungle."
What's better than having your own McQueen, though? Being the McQueen, which in a way, Alonzo admits to without even saying it. "I would love to, at one point, meet somebody that can help guide me... but at the same time, I see what is needed and I try to be that for other people. Because, I always feel that way in this industry, I've had the chance to open the door, and now it's my job to hold that door open for everybody else to come in."
While women still have a long way to go with representation in Hollywood, women like Alonzo prove that the roads less traveled really do prove to be some of the most awarding ones yet. And luckily, little girls everywhere watching Cars 3 will benefit from that.