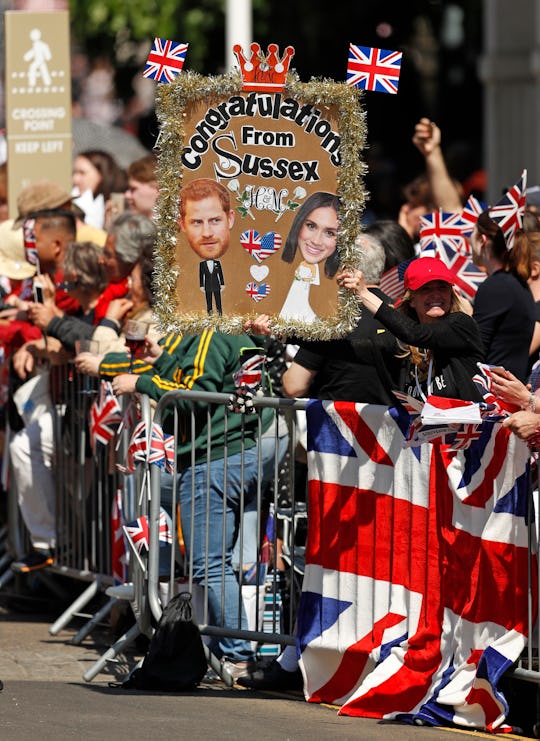 WPA Pool/Getty Images Entertainment/Getty Images
The Crowd Signs At The Royal Wedding Show That Prince Harry & Meghan Are So Revered
While the main part of Saturday's royal wedding happened inside St George's Chapel, plenty of festivities also went down on the streets of Windsor Town. Surrounding the chapel where Meghan Markle and Harry, Prince of Wales said "I do" were throngs of excited fans, many of whom carried large signs honoring the couple. As one might have expected, there were plenty of crowd signs outside the royal wedding Saturday morning, ranging from heartfelt to hilarious.
Following the ceremony, the newly-minted Duke and Duchess of Sussex rode in a Carriage Procession along the Long Walk in Windsor Town, ending at Windsor Castle. Fans knew the route of the procession in advance, as Kensington Palace announced the plan on Twitter back in February. "[Markle and Harry] hope this short journey will provide an opportunity for more people to come together around Windsor and to enjoy the atmosphere of this special day," Kensington Palace tweeted at the time.
As the carriage progressed through Windsor Town, Markle and Prince Harry got to see plenty of the creative signs their supporters made in honor of the big day. And for all the signs they didn't get to see, they can easily hop onto Twitter, where there are endless photos of the supportive signs. Here are a few of the best royal wedding signs.
This person claimed, "I married a ginge too!"
The bearer of this sign honored Prince Harry's late mother, Diana, Princess of Wales.
Someone took their scrapbooking skills to the streets with this sign.
This group of young women went all out with a hand-drawn sign, United Kingdom flags, and even a bit of festive face paint.
And a few gals from the United States gave the couple America's unofficial seal of approval.
In lieu of a sign, this fan attached photos of the newlyweds (and Queen Elizabeth II) to a giant hairbow.
Some fans decked themselves out in United Kingdom-themed gear, and they carried Harry and Meghan-emblazoned U.K. flags.
A string of decorative bunting was covered in drawings and messages with prayers for the newlyweds.
One prayer reads:
May God be your helper on your exciting day. May god love you and make your honeymoon the best you've ever had. We all hope that you have the best wedding. All the best hope for the future. We hope you had a great past as well.
And the other reads:
Dear Lord, Please wish Prince Harry and Meghan Markle a happy wedding. Please may the weather be great and may they have lots of laughter on this special day. May everyone be happy as well. Hopign they also have honeymoon and have lots of kids. Amen.
The Harry and Meghan U.K. flags were not in short supply.
Some fans threw American flags into the mix, to honor Meghan's American nationality.
British retailer Marks & Spencer temporarily rebranded their storefront in honor of Meghan Markle. Is it just me, or is Markle & Sparkle actually a great name for a shop?
It's no surprise that the streets were flooded with signs honoring the newlyweds, considering the same thing happened during the 2011 royal wedding between Prince William, Duke of Cambridge and Catherine, Duchess of Cambridge.
Even though Prince Harry and Markle are obviously not able to respond individually to every sign, it's evident that they are grateful for all Brits (as well as all those who traveled to England for the big day) who are in their corner. Not to mention, isn't it nice to see people brandishing homemade signs that aren't for a protest for once?