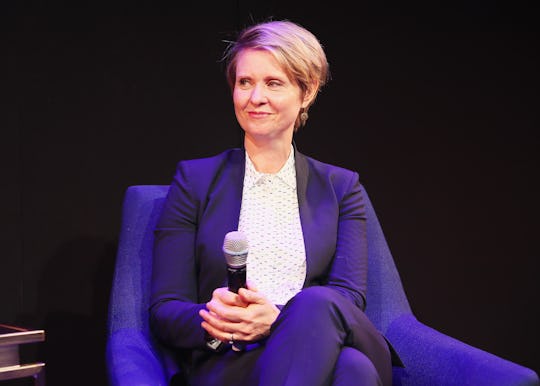 Astrid Stawiarz/Getty Images Entertainment/Getty Images
Cynthia Nixon Shares Her Son Is Transgender, Proving She'll Fight For LGTBQ Rights
Before this year, if you heard the name "Cynthia Nixon," the first thing probably to come to mind would be, "Oh, right. She's that actress from Sex and the City. The series — which ran from 1998 to 2004 — featured four friends living in New York City while navigating relationships, work, and of course, sex (or lack thereof). Nixon played Miranda Hobbes — the career-minded lawyer, who was cynical about love and relationships. Fast forward to 2018, and the former actress has reemerged as a political force to be reckoned with. Most recently, Cynthia Nixon shares her son is transgender, proving she'll not only fight for LGTBQ rights — but that she's also a kick*ss mom.
On Friday, June 22, Nixon shared an Instagram photo of her son's graduation from the University of Chicago, Us Weekly reported. Which is great and all because graduating from college is definitely a big deal. However, it was the proud mom's caption that ended up catching everyone's attention. "I'm so proud of my son Samuel Joseph Mozes (called Seph) who graduated college this month," Nixon wrote. "I salute him and everyone else marking today's #TransDayofAction. #TDOA." In one fell swoop, she revealed her child is transgender, congratulated him on his academic achievement, and publicly supported transgender rights. Can you say bad*ss?
As USA Today reported, Seph is the 21-year-old child of Nixon and her former partner, Danny Mozes. (He was originally named Samantha.) Nixon has has a 15-year-old son with Mozes, as well as a 7-year-old son with her wife, Christine Marinoni. Unfortunately (yet as expected), there was a fair amount of trans-bashing in the comments section of Nixon's Instagram post. (But I won't validate these trolls with more attention than they deserve — which is zero.) Thankfully, though, there was also plenty of love and support from her followers.
"Congratulations! So proud of you and your son!!" one person commented. "Wish I lived in New York. You'd have my vote!!!! Best wishes to you and your son!!"
Another follower commented, "The support from her as a mother to her son is so heartwarming."
Yet another person wrote, "Go Seph! Cynthia, I am a New Yorker born and raised. I left NYC a while ago and so wish I could vote for you. Rooting for you!!"
Nixon announced she was running for New York governor via Twitter this spring, Vogue reported. A March 19 tweet read, "I love New York, and today I'm announcing my candidacy for governor. Join us: http://bit.ly/gocynthia."
Although this marks her first gubernatorial run, Nixon has been actively supporting LGBTQ rights even before this. In February 2017, Nixon gave a passionate speech at a solidarity rally, which was protesting President Tump's immigration ban, Page Six reported. "As LGBT people, we know how important coming out is, but I would argue that our coming out has never been more important than it is right now," she said to the crowd. "Whether we are lesbian, or gay, or transgender, or Muslim, or Mexican. or any one of a number of other categories I can name, we are allies united by our otherness. She continued:
We must fight hard and yell loud for ourselves. We have come too far to be turned back now, but we must fight just as hard and yell just as loud for Muslims — both those here and those trying to get here ... Be different. Be other. Be you. We need you!
Sure, plenty of people were skeptical of Cynthia Nixon's gubernatorial candidacy, writing it off as "just another celebrity running for office." But you have to hand it to her; she does have a solid platform, and she genuinely cares about her potential constituents. Whether or not you like Nixon as a person, it's hard to argue that she isn't passionate about supporting the LGTBQ+ community — and her own son — during her run for governor of New York.