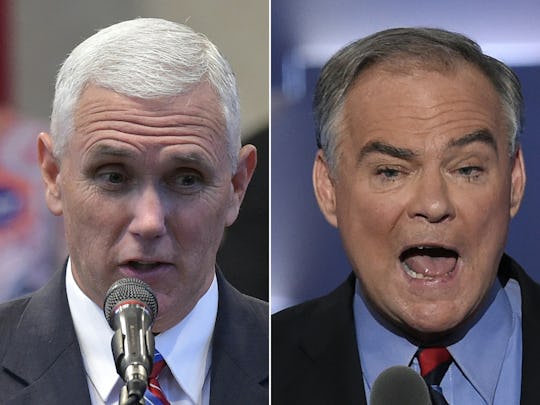 MANDEL NGAN/AFP/Getty Images
Dad Jokes About Tim Kaine & Mike Pence At The Debate Are Surprisingly Spot-On
The vice presidential debate yielded a major response on Twitter, but one kind of post stole the spotlight. Dad jokes about Mike Pence and Tim Kaine seemed to run rampant during the debate, and considering how everyone was talking about how "boring" this particular debate was going to be, you can't blame the viewers for keeping themselves entertained.
On Tuesday night, Democratic vice presidential nominee Tim Kaine and Republican vice presidential nominee Mike Pence sat down for a 90-minute conversation at Longwood University in Farmville, Virginia; according to CNN, it's the only chance the candidates have to participate in a debate. Both Kaine and Pence had a lot to prove: a CNN/ORC poll revealed that "12% of likely voters" didn't recognize either one of them. Though vice presidential debates do not generally play a critical role in a campaign's strategy, Kaine and Pence were tasked with cementing their own credibility while defending their running mates' records and ideas. Some debate viewers took to social media to dissect the candidates' comments and offer an informed take on their platforms. Others went straight for the dad jokes, and the tweets could not have been more delightful to read:
It turns out Twitter has a seriously detailed vision of Kaine and Pence as fathers.
Shortly after 11:30 p.m. Eastern Time, CNN reported the results of a CNN/ORC poll revealing that a group of debate viewers that skewed Democratic called the vice presidential debate for Pence. While 48 percent of those polled said Pence won, only 42 percent said Kaine won. The debate was certainly tense; there were plenty of interruptions and demands for each candidate to defend their running mate regarding the most prominent controversies surrounding each campaign. It wasn't exactly the laid-back conversation many expected from two politicians often referred to as boring.
Regardless of who actually won the debate, the real winners were probably the people sitting at home making seriously stellar dad jokes on social media. Because long after people forget what was said at the debate table tonight, they'll remember the joy of seeing two of dads go head-to-head in a conversation that was much more lighthearted in the American imagination.