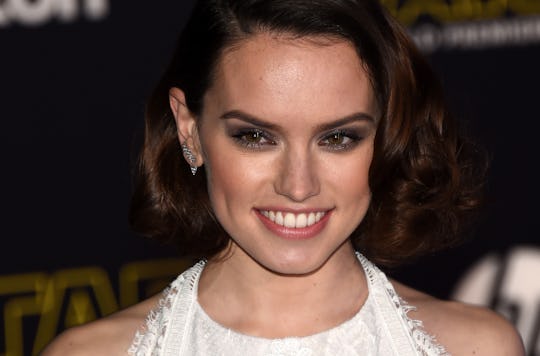 Daisy Ridley Snubbed For 2016 Oscars & It's An Insult To 'Star Wars'
Ignoring the fact that she didn't earn a Golden Globe nomination for her role in Star Wars, Daisy Ridley's Oscars snub still took the fandom by bitter surprise. Ridley, who plays Rey in the The Force Awakens is a newcomer to the Star Wars franchise, but she was immediately a fan and critic favorite for her on-screen depiction of the character. Her prominence in the trailers for The Force Awakens and on the marketing materials signified the importance she'd play not just in the film, but for the franchise itself in years to come.
The British-born actress, singer, dancer, and model (yep, you read that correctly) was pretty much entirely unknown before being cast as Rey, with series spots in Silent Witness, Casualty, and a spot in SCI-FI-LONDON's 48 Hour Film Challenge short film Blue Season before Lucas chose her to be in Star Wars.
Shortly before Star Wars hit theaters, Ridley told reporters of her plans for the film's release:
I'm going to curl up in a ball and hope people like me.
And knowing what we know now, Ridley need not have worried. Fans flocked to Rey's appeal, but even though the actress was an instant sensation and a stellar casting, it wasn't enough to earn her a Golden Globe nomination at 2016's show. Though Star Wars had the biggest Hollywood premiere in 21 century history, the Oscars don't exactly cater to the sci-fi/fantasy film community.
Ridley's snub this morning for an Academy Award proves that the Oscars aren't going to be changing along with its audience anytime soon. It's pretty common for sci-fi films and fantasy movies to be overlooked (as are the actresses and the actors who are cast to play the roles within it) during awards season in general, and Ridley's snub only further illustrates that. Ridley's Oscar nod would've said loud and clear that blockbuster hits aren't just about huge premieres and historic earnings, they are also about incredible acting. It's a shame the Oscars overlooked it.
Rey's character in The Force Awakens didn't exactly give much to go off of. It felt like she was just plopped down into the film, just as clueless as we were. Even though it's more than likely that Rey's history will be a major topic in upcoming films, Ridley gave the role heart and character. She didn't have incredibly long monologues to win us over in The Force Awakens. Instead she had sheer grit and power. To see her character and the movie overlooked by the Oscars community is a disappointing reminder that not much has changed.
Image: Ethan Miller/Getty Images, Star Wars/YouTube