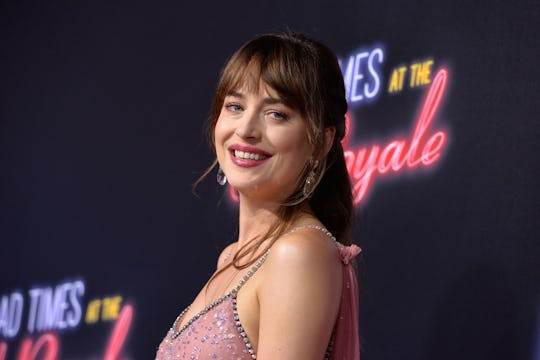 Michael Tullberg/Getty Images Entertainment/Getty Images
Dakota Johnson Had The Most Amazing & Humorous Response About Those Pregnancy Rumors
It seems that pregnancy rumors are just inevitable in Hollywood. They must be annoying to deal with, but one tough actress was happy to set the record straight once and for all. On Thursday, Dakota Johnson addressed pregnancy rumors that ignited earlier this week with the funniest response and handled the whole interview with such grace and good humor.
The rumor began circulating on Monday, according to E! News, after TMZ reported that a release of pink and blue balloons at, what was actually a birthday party, a "star-studded" sex reveal party. Ellen DeGeneres got right into the rumor when the actress — currently appearing in Bad Times at El Royale, according to People — joined her on her talkshow this Thursday.
"That is a mighty tight outfit for someone who's pregnant," the host said, to which Johnson joked back:
The only thing I'm pregnant with is a lot of really good ideas. But not any babies.
Johnson has reportedly been dating Coldplay's Chris Martin for about a year, according to Cosmopolitan, and it was the singer who threw her the birthday party on Saturday. On Monday, however, TMZ reported they were expecting a baby after balloons were released at the event. Considering the trend of releasing pink or blue balloons at sex reveal parties, the idea didn't seem too farfetched at the time. However, Johnson explained that release was entirely accidental.
"There were balloons that happened to be pink and blue... and so then I was pregnant?" Johnson explained to DeGeneres. "I didn't know that the balloons were going to be released; they were just in an arch. But I guess that accidentally happened — one of the ends got let go. But a lot of people congratulated me."
The host went on to tease Johnson about the party after the actress explained how awkward the accident was. "I had to be like, 'It was just my birthday.' Then all the people I didn't invite to my birthday knew that I had a birthday party," she told DeGeneres.
"I invited you to mine and you came to mine," DeGeneres responded. "I'm just saying." But Johnson insisted that she didn't invite anyone to the party since she didn't plan it.
The pregnancy rumors were fueled because, just a few days before the party, Johnson had appeared onstage at the Global Citizen's Concert in Central Park wearing — gasp! — a baggy coat, according to TODAY, which had people wondering if she was perhaps hiding a bump. Johnson was at the event with Martin, as he was performing, according to TMZ.
This whole debacle is all the more newsworthy since the couple have been very private about their relationship. A source told People that they enjoy keeping their relationship to themselves. "Chris lives in Malibu and Dakota seems to love hanging out there. They occasionally go for dinner with friends, but mostly have friends over at home. They go to the beach together, and walks around the neighborhood," the source reportedly told People. "They seem to enjoy sharing a quiet life. It does seem they are getting more serious."
Not serious enough for a baby yet, though, as Johnson made clear on Thursday. "Now maybe you want to get pregnant, because you get so much attention," DeGeneres said to Johnson. That's probably not a good motivation for the reticent actress...
With all this said, though, the whole exchange was sweetly hilarious and — hopefully — cleared up the matter for good.