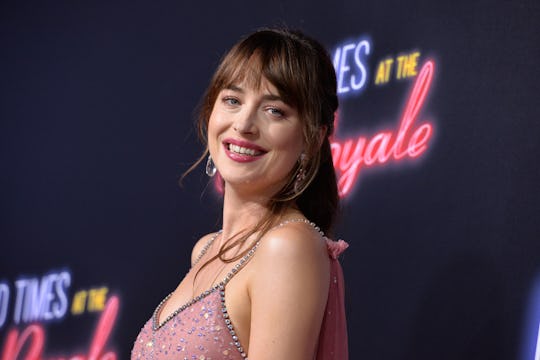 Michael Tullberg/Getty Images Entertainment/Getty Images
Is Dakota Johnson Pregnant? Don't Get Your Hopes Up On This One
His ex-wife, Gwyneth Paltrow, just tied the knot, but it sounds like Coldplay frontman Chris Martin has some exciting news of his own to celebrate. His girlfriend, actress Dakota Johnson is reportedly pregnant, and the couple are said to be expecting a boy. Johnson's rep did not immediately respond to Romper's request for comment, but according to TMZ, the couple celebrated their impending arrival with friends and family Sunday, and gathered for what appeared to be a balloon-filled sex reveal party.
Update: Us Weekly has reported that a rep for Johnson denied that she is expecting, and said that the party was a birthday celebration, not a sex reveal party.
Though it's not entirely clear if the couple really was announcing their news by releasing blue balloons into the air, it also wouldn't exactly be a surprise: Johnson and Martin, after all, are known to be a very private couple, and so it's totally possible they've just been keeping the news under wraps. The baby will be the couple's first child, but he or she will already have two older siblings to show them the ropes — Martin is already a dad to 14-year-old Apple and 12-year-old Moses from his previous marriage to Paltrow. And Johnson's pregnancy is probably pretty great news if his kids were ever hoping for another sibling: ahead of her wedding to Brad Falchuk earlier this month, Paltrow said that "neither of [them] wants more kids," and that they were "definitely on the same team" about that decision, according to People.
Martin and Johnson have stayed totally low-key about their relationship since they were first linked in Oct. 2017. According to The Express, the two were introduced by mutual friends, and not long after rumors began about their "secret" romance, they unofficially confirmed their relationship status when they were seen out on a sushi date. In November, fans spotted Johnson at a Coldplay concert in Argentina, and though she recently declined to comment on Martin during an interview with Tatler, according to People, she did at least tell the mag that she was "very happy."
Whether or not the two are actually set to welcome a baby, they at least seem to be committed enough to get matching tattoos. According to Cosmopolitan, both Johnson and Martin have infinity symbols with a double 'X' on their arms, which definitely seems very sweet — not to mention, uh, extremely permanent.
If Johnson is pregnant, then it appears that their family and friends are totally on board. According to TMZ, Johnson's parents, Melanie Griffith and Don Johnson, both attended the party, as did some of their celebrity friends, like Sean Penn and Julia Roberts.
For now though, it seems the closest the world will get to a pregnancy reveal by Johnson is a photo shared recently on Instagram by her friend, actress Addison Timlin. Timlin — who is definitely, for-sure pregnant — shared a sweet snap in honor of Johnson's birthday showing off their "bumps," though Johnson's was (for now) only a bowling ball. And regardless of her own pregnancy status, it sounds like she'll soon have an important role to play in at least one baby's life: Timlin wrote that Johnson will actually be her baby's godmother.
As sweet as it might be to envision Martin and Johnson having a baby together, the fact that they are so private about their relationship means that, well, they probably wouldn't come out and say so even if they were. And, well, I can't really say I blame them for wanting to keep this news to themselves.