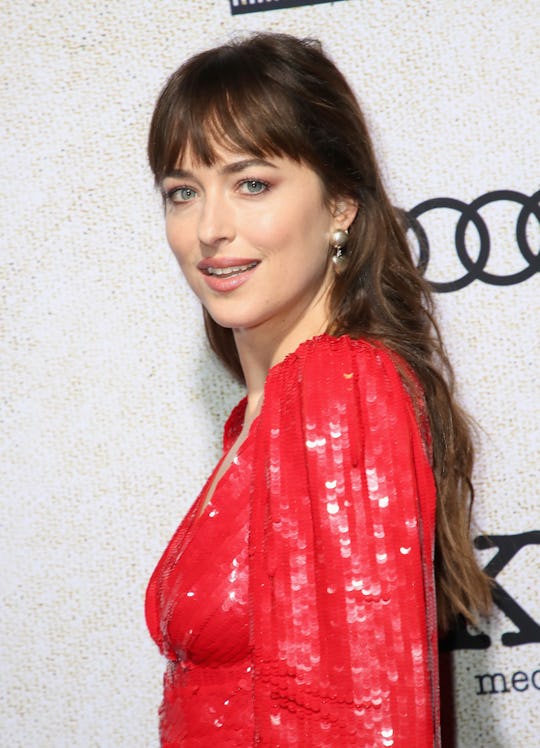 David Livingston/Getty Images Entertainment/Getty Images
It Was A Family Thanksgiving For Chris Martin, Dakota Johnson, & Gwyneth Paltrow
Just as you celebrated with your own family (chosen or not), one celebrity clan kept things all in the (extended) family this Thanksgiving as well, celebrating with spouses, kids, and dating partners. Dakota Johnson joined Chris Martin and Gwyneth Paltrow's Thanksgiving festivities with the couples two children and Paltrow's new husband, Brad Falchuk.
This is the first Thanksgiving Johnson has spent with the unconventional family, since she had just begun dating Martin in October 2017, according to People. The outlet reported that the couple didn't acknowledge their relationship until September of 2018 when Johnson told Tatler "I'm not going to talk about it but I am very happy," according to E! News. Just a few weeks later Johnson had to deny pregnancy rumors. She went on an episode of Ellen and told the host, "The only thing I'm pregnant with is a lot of really good ideas. But not any babies," according to UPI. She went on to explain that at her birthday party there was an arch of blue and pink balloons. When one end came untethered the balloons were released, making it look like a possible sex reveal party, UPI reported.
Martin and Paltrow split after 10 years of marriage in 2014 in a very famous "conscious uncoupling," according to E! News. Since then they've maintained a friendly relationship for the sake of their two children, Apple and Moses. A source told the outlet "Gwyneth and Chris have the modern family thing down pat and continue to vacation and spend family time together. Especially on holidays, Gwyneth wants nothing more than to be one big happy family and for her kids to be able to celebrate with both of their parents. She is very happy she and Chris have been able to make this work so well... It's very special that they're all able to come together like this and make it work."
And a big part of that comes down to the relationship between Johnson and Paltrow, which is apparently pretty chummy, according to E! News. "Gwyneth thinks she is lovely. She gets on very well with her and is happy for Chris," their source reported. "They've spent a good amount of time together and have a very nice friendship."
Last year at Thanksgiving it was the opposite, with Martin welcoming Paltrow's now-husband Falchuk into their fold. Paltrow posted a photo of Martin and Falchuk side-by-side and smiling, captioned "Sunday brunch #modernfamily."
The actress has also posted photos of herself, Martin, and their children together regularly, including a Mother's Day/birthday outing in May of 2017.
No matter how modern things look, though, it seems that for Martin and Johnson, a relatively quiet life is their preference. A source told People, "Chris lives in Malibu and Dakota seems to love hanging out there. They occasionally go for dinner with friends, but mostly have friends over at home. They go to the beach together, and walks around the neighborhood. They seem to enjoy sharing a quiet life. It does seem they are getting more serious."
Here's to an unconventional group doing their best to navigate relationships, happiness, and family on their own terms.
This first-time mom wants to have a home birth, but is she ready? Watch how a doula supports a military mom who's determined to have a home birth in Episode One of Romper's Doula Diaries, Season Two, below. Visit Bustle Digital Group's YouTube page for the next three episodes, launching every Monday starting November 26.