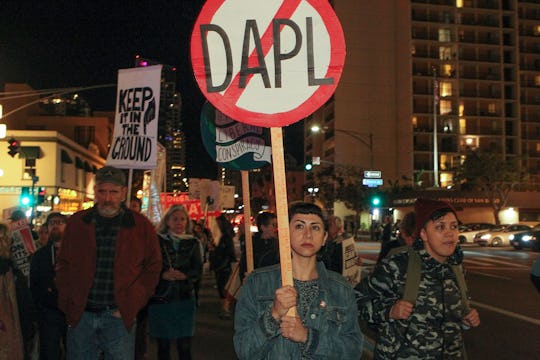 BILL WECHTER/AFP/Getty Images
Dakota Pipeline Fight Isn't Over Yet, So Don't Get Comfortable, Native Activists Warn
On Sunday, the U.S. Army announced that the Dakota Access Pipeline's current route would be denied, a testament to the months of protests carried out by the Standing Rock Sioux Tribe and other protesters. The announcement was received with much relief and celebration from most supporters of the cause — but a few Native American activists reacted by warning protesters not to get too comfortable. Their message was clear: Despite the win, the Dakota Access Pipeline fight isn't over yet.
That doesn't mean the news isn't good for protesters, of course, because it is: The Army Corps of Engineers won't grant a permit that allows the pipeline to run under Lake Oahe, the source of the Standing Rock Sioux Tribe's drinking water. But the decision isn't permanent, nor it doesn't mean that the Dakota Access pipeline won't be rerouted somewhere equally contentious. In a statement released Sunday night, Standing Rock Sioux Tribal Chairman Dave Archambault acknowledged those fears, saying,
We hope that Kelcey Warren, Governor Dalrymple, and the incoming Trump administration respect this decision and understand the complex process that led us to this point. When it comes to infrastructure development in Indian Country and with respect to treaty lands, we must strive to work together to reach decisions that reflect the multifaceted considerations of tribes. Treaties are paramount law and must be respected, and we welcome dialogue on how to continue to honor that moving forward.
The small grain of caution in Archambault's statement was one echoed by many:
Other than the section that would have run under Lake Oahe, the pipeline's construction was nearly completed, making this a particularly important section for the costly pipeline. Activists' concerns now center on President-elect Donald Trump — a pipeline supporter — and how he might influence the U.S. Army's recent decision. "My immediate reaction is, this is a victory. But we must remain vigilant," Kandi Mossett, of the Indigenous Environmental Network, told The Los Angeles Times on Sunday. "A denial only gets us to Jan. 20."
That same reasoning has inspired hope in pipeline supporters, which could possibly worry activists further. "With President-elect Trump set to take office in a 47 days, we are hopeful that this is not the final word on the Dakota Access pipeline," Craig Stevens, a spokesperson for an industry group, told The Los Angeles Times. "This purely political decision flies in the face of common sense and the rule of law."
Activists also worry that court orders could reverse the decision. Energy Transfer Partners, the company building the Dakota Access pipeline, filed two actions in federal court back in November, when the Army Corps of Engineers first delayed construction, in order to have further discussions with the Standing Rock Sioux Tribe.
"Dakota Access Pipeline has been granted every permit, approval, certificate, and right-of-way needed for the pipeline's construction," Energy Transfer Partners CEO Kelcy Warren told CNN at the time. "It is time for the Courts to end this political interference and remove whatever legal cloud that may exist over the right-of-way beneath federal land at Lake Oahe."
Knowing the possible battles that lie ahead of them, Native American activists are wise to stick to the mantra, "It ain't over 'til it's over." However, the Army's decision on Sunday remains an historic one, and regardless of what may lay ahead, it's still a victory well worth celebrating.