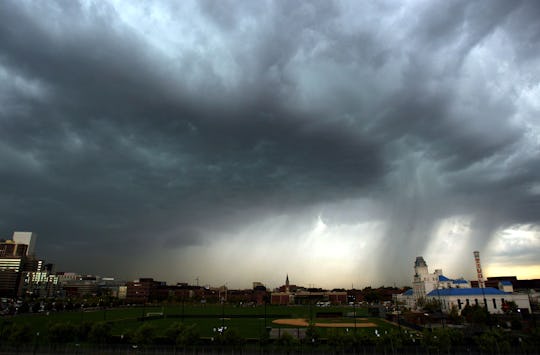 Robert Laberge/Getty Images News/Getty Images
Dangerous Tornadoes In Colorado Cause Damage & The Storm Isn't Done Yet
Batten down the hatches! Dangerous tornadoes in Colorado caused significant damage over the weekend, and the storm isn't over yet. According to forecasters, America's plains region will be facing some severe weather in the next few days.
A series of tornadoes tore through eastern Colorado Saturday evening, causing injury to at least five people and substantial damage to motorhomes, farms, and other buildings. The fierce storm carried hail the size of marbles and ping pong balls and torrential downpours that pounded parts of Denver and the eastern Colorado plains. There were over two dozen reports of damaging hail, according to CBS Denver.
The National Weather Service Science said multiple tornadoes touched down in Yuma County, CO (about 100 miles east of Denver) last night. "We had at least four tornadoes in Yuma," NWS Science and Operations officer Jeremy Martin told The Associated Press. "We're still trying to get the exact number." Martin said his team was traveling to the region Sunday morning to better assess the situation.
Several other tornadoes were reported in the Colorado area bordering Nebraska and Kansas, with one hitting Morgan County, CO, resulting in destruction and several more minor injuries. Overall, according to USA Today's Storm Prediction Center, there were 15 different reports of tornadoes in Colorado last night. Thankfully, none of the tornadoes caused any fatalities and those who were injured did not seek medical care.
Yuma County deputies have been assessing the damage and coordinating with first responders since the twister touched down in Wray at about 6 p.m. local time. The half-mile-wide tornado traveled for at least 10 miles on the ground, various storm chasers reported. So far only four structures have sustained "significant damage," said the Yuma County Sheriff's Office. The storm also threw down about 40 electric poles.
A multi-vortex tornado — one that contains several vortices rotating as a part of the main vortex — was spotted at 3 p.m. on Saturday near Wiggins, CO. and reportedly toppled trees and overturned at least a dozen trailers, according to a report from NBC affiliate KUSA.
"We had no idea it was a tornado," Jeanne Welham, who was inside one of the toppled motorhomes, told USA Today. "We prayed and we were grateful that the weather was not so good this weekend, because I'm afraid that if everybody [in her family] would've been here lives would've been lost."
Professional and amateur storm chasers were able to catch some stunning photos and video of the Colorado storms.
This severe weather is flaring up because a slow-moving low-pressure zone in the West is moving east into the Plains, pulling warm and humid air north. If that is all foreign to you, just know that this low-pressure system can lead to severe thunderstorms with large hail, strong winds, and tornadoes. Tornadoes are most likely to occur in the United States during the month of May, according to the National Ocean and Atmospheric Administration.
Meteorologists predict the Colorado storms will continue to move east further into the Great Plains, Midwest, and South from Mother's Day into the next week. The Weather Channel warned Sunday that numerous storms would develop in the afternoon and evening in Nebraska, south through Kansas, Oklahoma, and into central and West Texas. More than a million residents in those states should be ready to see large hail, damaging winds, and likely a few tornadoes, particularly those living anywhere from central Kansas to western and central Oklahoma.
The severe weather is likely to continue, hitting Missouri, Arkansas, Louisiana and eastern Texas on Monday.
Meanwhile, two people were killed and six injured in multiple weather-related car crashes in Arizona on Saturday. A vehicle rolled on Interstate 40 in northern Arizona due to icy road conditions and hail, the Associated Press reported. Two people were hit and killed by a commercial vehicle while trying to help the occupants of the flipped cars. Those crashes started a chain reaction of at least three more car wrecks and a stretch of the interstate was closed for investigation, the Arizona Department of Public Safety said.
Bad weather can cause big problems for regions unused to such severe weather conditions. While the plains are no strangers to tornado warnings, the ice storm in Arizona is dangerous because many residents do not know how to deal with icy roads because the weather is usually too warm. Southern states in particular face this issue because cities do not possess the same amount of salt trucks as cities like Chicago do which can help melt ice on roads, making it safer to drive.
Though roads may get icy in Northern cities, the residents are used to it, know how to handle themselves during a skid, and often have snow tires on their cars. But people living in warmer climates do not have experience with driving on ice and are therefore more at risk of accidents.
If you are unused to varying types of bad weather, don't venture outside (especially in a car). Staying inside will significantly increase your chances of remaining unharmed during a severe weather event.