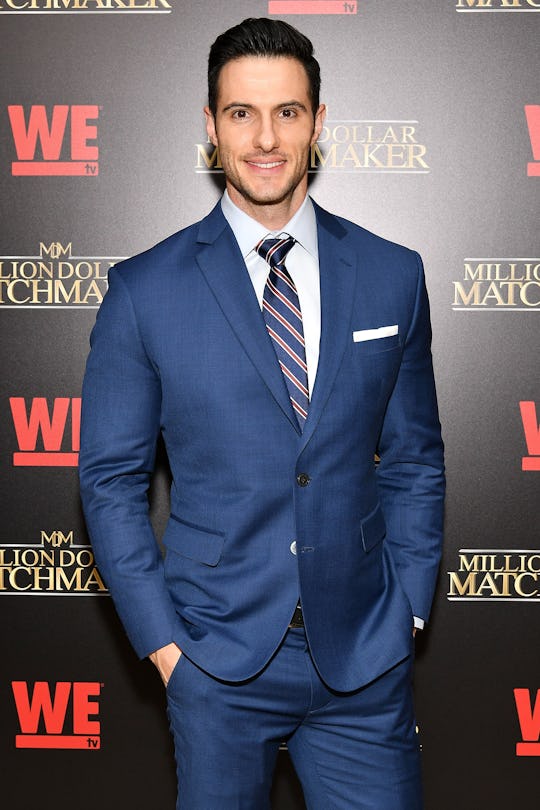 Dia Dipasupil/Getty Images Entertainment/Getty Images
People Have A Lot Of Feelings About Daniel's Arrival On 'Paradise'
Bachelor in Paradise has given us our first post-scandal ~twist~ of the season and it's the arrival of Canadian bacon slice Daniel Maguire in the middle of a cocktail party. He showed up approximately fifteen minutes before roses got handed out and only had a few minutes to chat with each of the three unattached women left, but it was enough time for him to cram in an impressive number of signature Daniel jokes. And actually, people have a lot of feelings now that Daniel has returned to Bachelor in Paradise. I think producers flew him in at exactly the right moment to make him important in the context of the show — right when three recently dumped woman needed roses. Otherwise, it's tough to imagine he would have broken out of the initial pack of guys.
Lacey in particular seems to have had a longstanding crush on Daniel (although, conveniently, she desperately needed a rose that night), so she immediately and literally leaped into his arms when he first walked in. Daniel called Lacey leftover scraps to her face and yet she continued her dogged pursuit. And he did bring his, uh, unique sense of humor to the show. Daniel kicked off right away by apologizing for his late arrival, chalking it up to the extra time it took him to get over the border since Trump took office.
He also heavily bombed with a totally inappropriate Caitlyn Jenner joke, but you don't bring Daniel Maguire onto a show expecting him to know where the line is. Jasmine dismissed him pretty quickly, but she wound up getting a surprise rose from the ghost of Matt at the end of the night. (He came back just to give his rose away and then exiled himself again. Paradise plays really fast and loose with the rules, you guys.) And as we all know from last season, Daniel likes flirting with virgins, so he make an effort to woo Christen. But the next day, he offered up his date card to Lacey, and it seems like the desire to have a Paradise fling is fueling their fire just fine, regardless of whether or not they're actually compatible.
They wound up going on a lucha libre wrestling date and both made a lot of suggestive jokes about what a ~physical~ date it was. Daniel mentioned wanting to have sex with someone in Paradise approximately 12 times in his first episode, so it definitely seems like he's looking for more of a fling and less less of a girlfriend at the end of the season. In the meantime, we get to watch him practice his set, for better or worse.