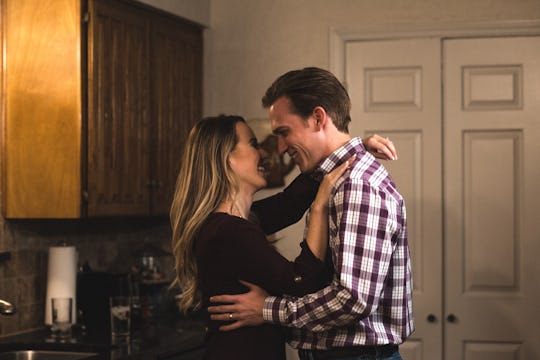 Valerie Chiang/Lifetime
Danielle & Bobby Have Their First Sonogram On 'Married At First Sight'
Danielle Bergman and Bobby Dodd were one of Married At First Sight's success stories: not only did they decide to stay together at the end of the show, they're now preparing to welcome their first child. The pregnancy plays a big part in their spinoff series, with cameras there to capture every important moment. And Danielle and Bobby's first sonogram on Married At First Sight: Happily Ever After is something a lot of expectant parents can relate to.
In an exclusive clip from the show, Danielle is a little worried ahead of an appointment with her OBGYN Heather Bellanger. "We're gonna do our very first ultrasound. It's definitely nerve-wracking because you don't have any way of knowing if things are okay," Danielle says in a confessional segment. A caption helpfully points out she is four months along in a marriage that has lasted six months. "This is where we would find out if things are not progressing smoothly or if something's wrong. It definitely makes me nervous."
It's totally natural to be apprehensive before a big appointment, and Danielle seems especially concerned because she hasn't been feeling well. She informs her doctor that she was sick in the car the whole way there. And even on days when she's feeling okay, a prenatal vitamin can kick off her nausea and vomiting all over again.
Morning sickness is a common symptom in early pregnancy, with the American Pregnancy Association reporting that it affects "more than 50% of pregnant women." But it's still something that can be really tough to deal with with. For a new mom like Danielle, who is experiencing all of this for the first time, being constantly sick must make everything much more stressful. But Dr. Bellanger assures her that the morning sickness won't last forever. The odds of it lasting the entire nine months, as Danielle fears, are low.
Dr. Bellanger explains that the nausea should improve by Week 20 of Danielle's pregnancy, but also recommends a medication that might help. Unfortunately, the exact name of the medicine is unclear in the clip, but the doctor says it's the safest thing they can put Danielle on. It works for most people, so it should be able to help her too. Danielle and Bobby are visibly relieved.
"It's hard for me to watch her feel really sick, so I do hope the new medication will make her feel better," Bobby says in confessional. "Maybe we're gonna get back to the honeymoon stage."
Fears allayed, they get ready for the sonogram. Danielle and Bobby get to see their teeny-tiny fetus for the first time, with the doctor pointing out their daughter's head and heart and toes. "Seeing my baby for the first time on the monitor is definitely unreal, you know," Danielle says. "It's definitely very emotional. I almost cried. But it was just very special to share that moment with Bobby."
According to Bobby, six months ago he would never have predicted that he would be married with a baby on the way. But looking at his wife and daughter, he felt like the luckiest man in the world. Like many other people who have been in their place, Danielle and Bobby's appointment was a mix of very normal nerves and happy reassurances, which is something other parents might find themselves relating to.
This first-time mom wants to have a home birth, but is she ready? Watch how a doula supports a military mom who's determined to have a home birth in Episode One of Romper's Doula Diaries, Season Two, below. Visit Bustle Digital Group's YouTube page for the next three episodes, launching Mondays in December.