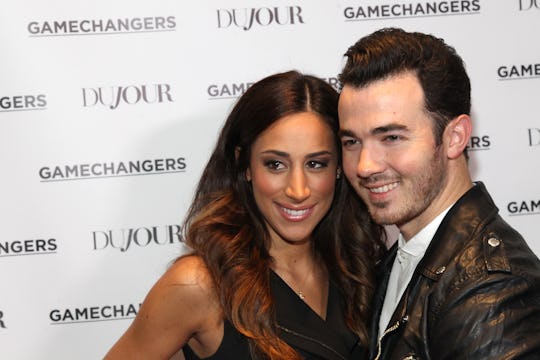 Bennett Raglin/Getty Images Entertainment/Getty Images
Danielle Jonas Is Pregnant With Baby Number 2 & Jonas Brother Fans Everywhere Are Thrilled
Even though they've hinted at wanting a bigger family, fans weren't expecting Danielle Jonas to be pregnant with baby number two so soon. On Monday, Jonas, married to singer Kevin Jonas of Disney fame, posted a picture to Twitter which featured baby Alena wearing a "big sister" t-shirt, accompanied by the caption, "Someone is happy." Yes, it's official: Another Jonas brother (or sister?) is on the way.
The couple seems to be handling the whole parenting thing pretty well, since just before posting the snapshot of Alena bearing the official good news, the couple tweeted out a picture of themselves, in bed, "preparing for baby number 2." In the pic, Kevin is reading What to Expect When You're Expecting and Danielle is surrounded by super-sized bags of Doritos, boxes of cereal, and what appears to be some leftover Girl Scout Cookies. How do you say, yaaas, queen in "I'm Pregnant Again" Mom-language? Although I've never given birth, I think it's with a big bag of nacho cheese Doritos and some Cheerios in bed. But I am just guessing here.
To Jonas fans, the news shouldn't come as much of a surprise. The Married To Jonas stars have been very open about wanting a big family, according to People magazine.
Since they've "always been talking about it," according to Danielle, the announcement just proves how open the couple wants to be about their family life. When she first found out she was pregnant for the first time, Danielle took over ten tests to confirm before surprising her husband of six years with the news.
"I also put all the tests in [his sock drawer] and a sign that said, 'I'll meet you in nine months.' Then I put his socks downstairs in a basket," she told People at the time. This time around, it seems they've gone a more direct route when it comes to making announcements on social media.
Danielle has opened up in the past about her struggles with anxiety and how it affected her first pregnancy, but judging by the array of fine junk food on their bed, it looks like stress management and lines of communication have opened up for her in the best ways possible. While pregnant with Alena, Danielle told People that she was still worried about her anxiety. "I am still taking anti-anxiety medication, but at a really low dose," she said. "They say if your body is stressed out, that's not good for the baby, so I figured this was the best thing for me."
When the couple first announced the news on Monday night, Jonas Brothers fans everywhere — obviously excited about the new addition to the Jonas brood — began tweeting fervent congratulations:
Between solid junk food choices and an obviously elated partner, it looks like Danielle's pregnancy could be easier this time around. Open chip consumption makes everyone feel better. Congrats to the happy family!