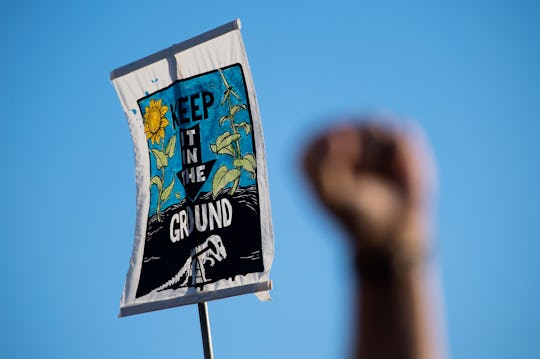 JIM WATSON/AFP/Getty Images
DAPL Protesters Won't Be Removed, But Authorities Issue A Confusing Warning
On Sunday, the U.S. Army Corps of Engineers sent a letter to the Standing Rock Sioux Tribe, informing them that the Oceti Sakowin camp currently being used by those protesting the North Dakota Access Pipeline would be closed by Dec. 5. According to Fox News, the USACE said DAPL protestors won't be forcibly removed from the camp — but authorities also went on to issue warnings that seemed to counter that statement. For protesters and the Sioux Tribe, it only served to compound tensions.
According to Fox, the Corps said that it had "no plans for forcible removal" of protestors, and that it was "seeking a peaceful and orderly transition to a safer location." The Corps cited safety concerns as the reason for the camp closure, in order to "protect the general public from the violent confrontation between protesters and law enforcement officials that have occurred in this area, and to prevent death, illness, or serious injury to inhabitants of encampments due to the harsh North Dakota winter conditions."
However, in its letter to the tribe, the Corps also warned leaders that those who remained on the federal lands would be doing so at their own risk, and would be subject to prosecution for trespassing. Romper reached out to the U.S. Army Corps of Engineers for clarification on whether protestors would face removal, but did not immediately hear back.
A copy of the reported letter provided to The Boston Globe by the Standing Rock Sioux Tribe read:
To be clear, this means that no member of the general public, to include Dakota Access pipeline protesters, can be on these Corps lands.
Standing Rock Sioux tribal leader Dave Archambault also told CNBC that he didn't believe the Corps would evict protestors. However, according to CBC, he also said in a statement:
Our tribe is deeply disappointed in this decision by the United States, but our resolve to protect our water is stronger than ever. ... Although the news is saddening, it is not at all surprising given the last 500 years of the mistreatment of our people.
Regardless of the Corps' intentions, protestors are planning to stay on the Oceti Sakowin camp. "We are wardens of this land. This is our land and they can't remove us," protestor and Oglala Sioux member Isaac Weston told CNBC on Saturday. "We have every right to be here to protect our land and to protect our water."
Whether or not protestors are evicted after Dec. 5, the Standing Rock Sioux Tribe hasn't been discouraged. According to CBC, Archambault encouraged the public to contact President Obama to revoke the federal permits necessary to complete pipeline construction, which would put an end to the protesting — and to the North Dakota Access Pipeline.