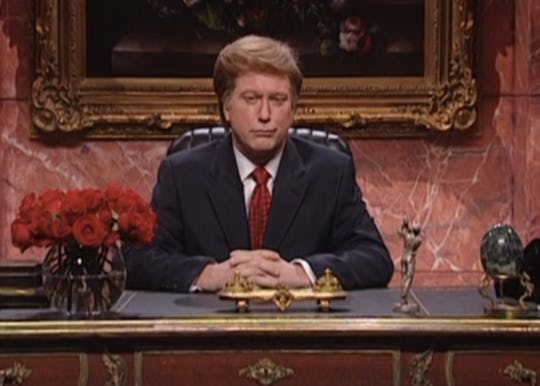 Darrell Hammond Stepped In For Taran Killam As Donald Trump on 'SNL,' & Viewers LOVED It
Saturday night's SNL episode got off to a super strong start. Darrell Hammond stepped in for Taran Killam as Donald Trump on Saturday Night Live, and Twitter is happy to see him back as the billionaire. Former SNL cast member and current SNL announcer Hammond's Trump impersonations are iconic. Killam took over impersonating Trump this year to critical acclaim, but on Dec. 19 Killam played Ted Cruz, and by all accounts did a fabulous job at that, too.
Hosted by Tina Fey and Amy Poehler, the cold open for the last SNL of 2015 featured a spoof of the Dec. 15 GOP debate. Featured player Jon Rudnitsky played moderator Wolf Blitzer, and the stage was filled with many favorite cast members. Cecily Strong perfected her Carly Fiorina smile, Jay Pharaoh explained why patients are afraid of brain surgery by Ben Carson, and Beck Bennett played a bumbling version of Jeb Bush. According to the internet, though, the real standout was Hammond as Trump.
According to IMDB, Hammond started on SNL in 1995 and was a regular part of the cast through 2011. He quickly emerged as a powerhouse impressionist: The Huffington Post published a list of Hammond's top SNL characters. Favorites include Regis Philbin, Dan Rather, and a trash-talking Sean Connery opposite Will Ferrell's Alex Trebek during the classic Jeopardy sketches. But Hammond's most famous impressions might be his political ones: he took on Al Gore, John McCain, and Jimmy Carter, among others. Since returning as SNL's announcer, he's made several appearances on the show reprising his role as Bill Clinton. SNL fans are delighted to see Hammond as Trump:
Twitter is also loving Taran Killam's Ted Cruz:
Whether you prefer Hammond or Killam as Trump, tonight's cold open was definitely on point. There's nothing better after watching a debate than seeing SNL put their spin on it!
Image: Yahoo