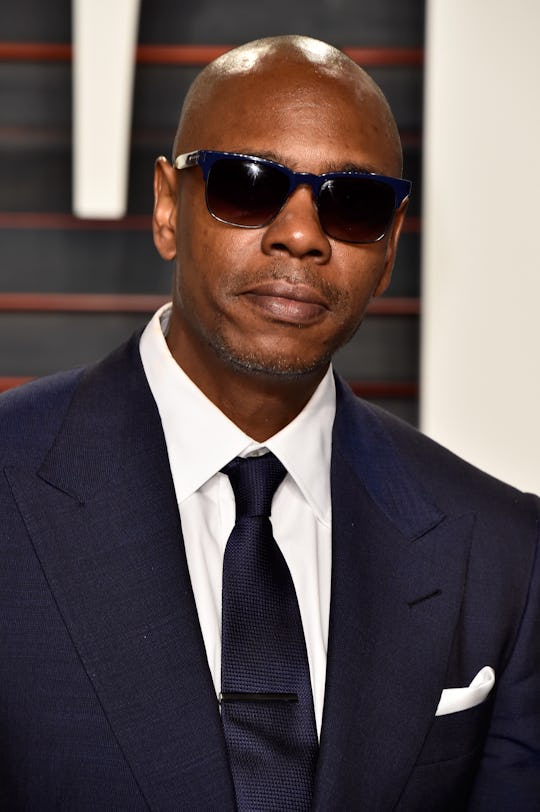 Pascal Le Segretain/Getty Images Entertainment/Getty Images
Dave Chappelle Will Host 'Saturday Night Live' & These Videos Prove He'll Be Great
"Cocaine is a hell of a drug." If you remember where this quote is from, you are about to be very, very elated. Because it has just been announced that Dave Chappelle will be hosting Saturday Night Live on November 12. "I wish I had more hands so I could give [this news] four thumbs [up]!" This will mark the entertainer's first time under SNL spotlights. And, with it being only five days after the election, we very well might be reintroduced to Chappelle in the guise of a news anchor, Chuck Taylor. This is just one of the reasons we know that Dave Chappelle will make an amazing host on SNL, now let's look at some others.
To start off, Chappelle is one seriously funny guy. While most people are blessed with one funny bone, he was born with a full skeleton of them. Mainly recognized for his standup comedy, and the Chappelle's Show (2003-2006). Comedy Central's short-lived series was filled with jaw-dropping, knee-slapping sketches that touched on an abundance of racial issues. That show was comedy gold, and extremely controversial. I truly wish he hadn't ended Chappelle's Show so abruptly, or at all, for that matter. That crazy series is what gives me high expectations for his comeback on Saturday Night Live's upcoming sketches.
Here are some other reasons Dave Chapelle is a perfect fit to host the weekly show at 30 Rock.
He Has Already Impersonated A President
It's awesome that he's had this role under his belt during a time Trump and Hillary have been played frequently on SNL.
He Has Also Played An Anchor Before
Only he, or should I say "Chuck Taylor," could pull this one off.
And Prince
Is anyone else on television currently performing such ridiculous antics? No.
In Fact, He Can Rock Any Role, Including Tyrone Biggums
Everyone can recall those powdered lips, and his signature scratch.
The Iconic Sketch With Wayne Brady Speaks For Itself
I'll never get the words "run b-tch, run!" out of my head.
Chappelle Knows How To Be Real
On top of all of his raw talent, the standup artist can go from silly to serious in a matter of seconds.
He Knows How To Deliver A Crazy Story
Remember those tales with Charlie Murphy, and a specific couch? I'll never forget them, and apparently neither can the store Spencer's. You can buy a hat of the couch reference here, if they ever come back in stock.
There is no doubt that come Saturday, Nov. 12, Chapelle will own SNL. Until then, "I'm Rick James, b-tch."