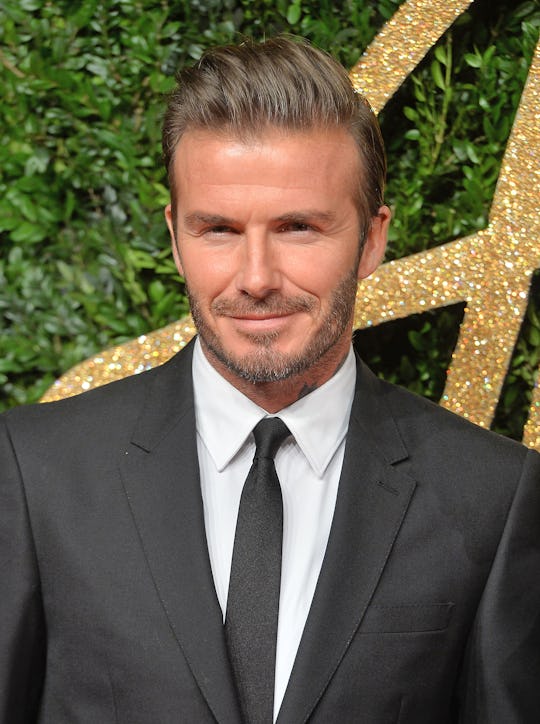 Anthony Harvey/Getty Images
David Beckham Embarrassed Son Brooklyn On Instagram By Pulling The Ultimate Dad Move
It's always good to know that even celeb parents love to embarrass the hell out of their kids, amiright? Case in point: On Saturday, David Beckham pulled the ultimate dad move by commenting on his son's Instagram photo. Brooklyn Beckham, son of David and Victoria (or, as you know her better, Posh), posted a selfie in a hoodie yesterday and captioned it "rocking the old school Ralph Lauren." You know, clearly trying to look too cool for school, as is the prerogative of every high school kid ever. And in perfect dad fashion, People's Sexiest Man Alive commented on the photo with three simple words: "That's my jumper."
In case you're unaware, a "jumper" is what the Brits call a sweater. And in one simple comment, Dad totally blew up any street cred Brooklyn was going for. Instagram followers quickly took notice, and LOL-ed all day long on Beckham's account. There are currently over 2,000 responses just pointing and laughing at the two (which you should go and read for yourself, because it's all pretty enjoyable).
Beckham's ultimate dad moment is even more funny because it is just like a dad to embarrass you in public — even if your dad is a super babe like Beckham. It has all the qualities of a good burn: Brooklyn was trying to peacock a bit and David shut him down in public, with three little words. Poor kid. Later that day, Brooklyn seemed to be over the fashion shaming. He even posted some videos at a skate park and then later at Jack and Holly Ramsay, Gordon Ramsay's twins, birthday bash. So in the end, it was all good.
The moral of this story? Dads will always be dads — and at least Beckham doesn't wear dad jeans. But hey — even if he did, I'm sure he'd somehow make 'em look good.
Image: Anthony Harvey/Getty; Giphy