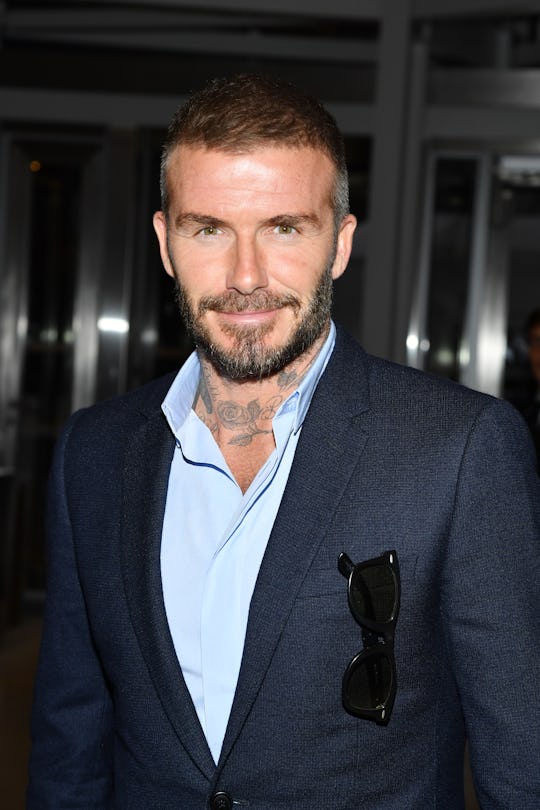 Pascal Le Segretain/Getty Images Entertainment/Getty Images
People Have Strong Feelings About A Photo Of David Beckham Kissing His Daughter
Scan the news and you'll see that celebrities are often the victims of extreme scrutiny — well-meaning fans who just can't keep their opinions to themselves. Just ask David Beckham, who's caught squarely in the middle of a big social media debate over a seemingly simple sign of affection towards his 7-year-old daughter, Harper. So, what happened? David Beckham kissed his daughter on the lips in this photo and people have strong feelings about it.
The two were on a sweet daddy-daughter ice skating outing in London, according to The Express. And before they took the ice, Beckham posted a photo of the two on Instagram, captioning it:
"Christmas is coming 🎅🏼 Let's go skate ♥️"
Beckham, wearing a brown corduroy cap and handsome orange scarf, can be seen kissing Harper square on the lips. It's clearly a pre-skate selfie. Little Harper in a red pea coat and fuzzy ear muffs seems quite happy to be on a skate with her dad. But this didn't stop the comments from pouring in.
Many thought that a dad kissing his daughter on the lips was wrong, and were quick speak up.
"Weird - It's improper for a parent to kiss their kids in the lips; on the forehead/cheeks is cute though," one person commented.
"i dont have kids but.... it's inappropriate to kiss your kids on lips," another added.
Others jumped to Beckham's defense.
"Nothing is wrong with a father kissing his young daughter on the lips! Anyone who thinks something is wrong with this then something is wrong with you! ❤️," wrote one commenter.
"I can not disagree with the 'media' more in relation to this beautiful daddy daughter picture, it's disgusting the way the world portrays a beautiful moment like this. Mr Beckham you and you're family are loved around the globe. Keep being the fantastic daddy you are, your children are very lucky. X," added another.
Some even went further in their defense.
"I kiss all my kids on the lips my eldest son is 14 I also still kiss my 70 year old father on the lips it's a family love thing not a weird thing the negative comments on this post are literally everything that is wrong with this world and the photo itself is a reminder of how the world should be," one user said.
Still others say it's a cultural thing.
"Depends on the country and family. My cousin and her dad greet each other by pecking each other on the lips, yet my dad and I struggle just to hug each other but we all having loving relationships with one another. It depends on the country and the family. I have seen many people in the Uk and France greet each other by kissing each other lips, so it is not improper...," still another commented.
The post has nearly 2 million likes, so maybe the naysayers were in the minority.
But what do the experts think about kissing children on the lips? There's definitely a debate. Dr. Charlotte Reznick, an associate clinical professor of psychology at UCLA told CafeMom:
The kiss on the lips can be stimulating … It's just too confusing. If mommy kisses daddy on the mouth and vice versa, what does that mean when I, a little girl or boy, kiss my parent on the mouth? If I had to answer when to stop kissing your kids on the lips, it would be now.
Others think that parents and children should decide when to stop and that there's no set age at when kissing on the lips is no longer appropriate. Parenting coach Sharon Silver told Yahoo Parenting:
Parents and children are intuitively connected. If one or the other feels weird about kissing on the lips then it's time to stop, no big deal. We have become trained to be on the lookout for sexual abuse around every bend, and rightfully so, but a normal non-sexual intuitive touch point between parent and child is just that — normal.
But above all, it's important to keep boundaries. "It's important that parents keep and maintain boundaries with their children, certainly, but in terms of expressing affection this feels within the realm of normal," Dr. Paul Hokemeyer, a licensed family therapist, told Yahoo Parenting.
What was surely just an innocent kiss between father and daughter got the social media treatment — a whole lot of fuss for not much of anything. Is there anything wrong with showing this sort of affection? Apparently, it's all in how you look at it.
This first-time mom wants to have a home birth, but is she ready? Watch how a doula supports a military mom who's determined to have a home birth in Episode One of Romper's Doula Diaries, Season Two, below. Visit Bustle Digital Group's YouTube page for the next three episodes, launching every Monday starting November 26.