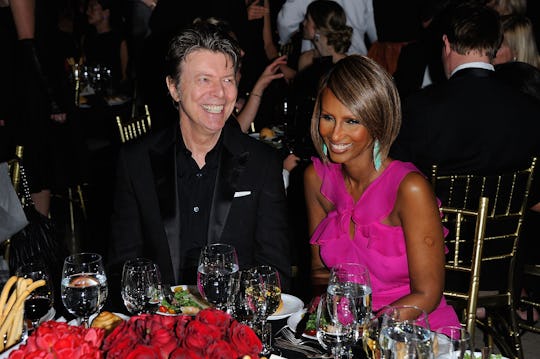 David Bowie Dead At Age 69, & Not A Single One Of Us Is Ready For It
According to posts from his official social media accounts in the early hours of Monday morning, David Bowie has died at age 69 on January 10, 2016. He had been quietly battling cancer for the last 18 months. He is survived by wife, supermodel Iman, and two children, Duncan Jones and Alexandria "Lexi" Zahra Jones. In addition to confirming the news to The Hollywood Reporter, the musician's Facebook page posted a brief note informing fans of the tragic, untimely passing:
David Bowie died peacefully today surrounded by his family after a courageous 18 month battle with cancer. While many of you will share in this loss, we ask that you respect the family's privacy during their time of grief.
The shocking (breathtaking, heartbreaking, world-stopping, stardust-freezing) news comes barely two days after the iconic rock pioneer's birthday. Bowie's 25th (twenty-fifth, you guys) studio album, Blackstar, is set to be released later this month.
Bowie, whose full name is David Robert Jones, first rose to acclaim with 1969's "Space Oddity," an early burst of fame that was cemented by his albums "The Man Who Sold the World" and "Hunky Dory." In the interest of saving time (I'm sure you've already stopped reading and are already settling in to get lost in your headphones for the next several days), I won't name all of his multi-award-winning albums and songs. We'll consider it insufficiently sufficient to say that there the catalog David Bowie has left behind is as singular, dynamic, and wholly irreplaceable as the man himself.
Ugh, do you guys feel like taking a break real quick? Let's take a break. This sucks so much.
OK, powering through.
While there were some early rumors that the official David Bowie Facebook and Twitter accounts had been hacked, and that the star was, in fact, alive and well, those brief moments of beautiful doubt were dashed when Duncan Jones, Bowie's son, confirmed the news on his Twitter account:
This story is developing...
Image: Andrew H. Walker/Getty Images