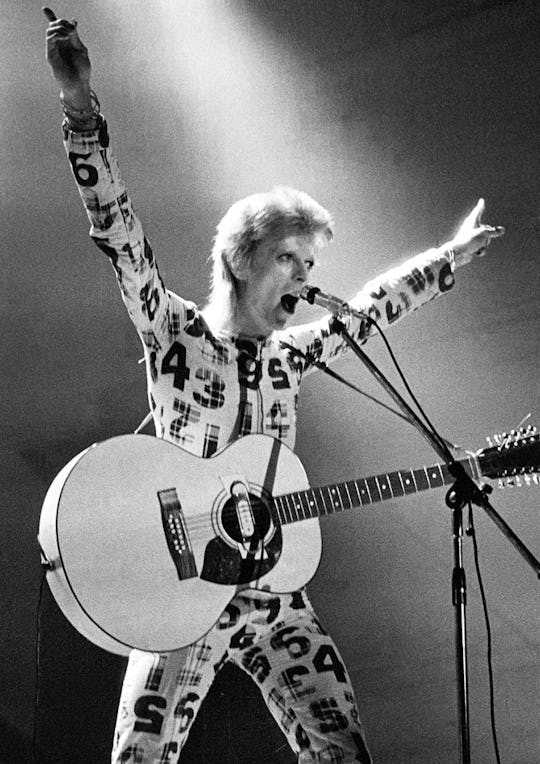 David Bowie's 7 Most Iconic Looks, Because No One Knew How To Reinvent Himself Quite Like Bowie
As the world reeled from the loss of David Bowie on Monday, fans were looking back at his incredible career to remember some of his greatest moments. But, when it comes to Bowie, it's not enough to look just at his music — his envelope-pushing, clothes-as-art fashion statements are just as important a legacy. David Bowie experimented with his look a great deal throughout his decades-long career, and spawned entire sub-genres of artistic expression. But there are some moments that are so iconically Bowie that they will always be remembered even though he's gone. Bowie's most iconic looks will help him be remembered as a sort of other-worldly artist — he and his music sometimes seemed to come from another planet.
From his late '60s emerging androgyny, to his unapologetic, gender-bending '70s glam rock catsuits and tights, and his unforgettable alter-egos Ziggy Stardust, Aladdin Sane, and The Thin White Duke, David Bowie was clearly not afraid to push the boundaries of what was considered appropriate. But according to the Huffington Post, Bowie's ever-changing looks weren't just about fashion, but about finding a way to leave himself behind:
Offstage I'm a robot. Onstage I achieve emotion. It's probably why I prefer dressing up as Ziggy to being David.
It's pretty much impossible to ever definitively narrow down Bowie's best looks, but here are 7 of the most iconic ones that come to mind now that he's gone.