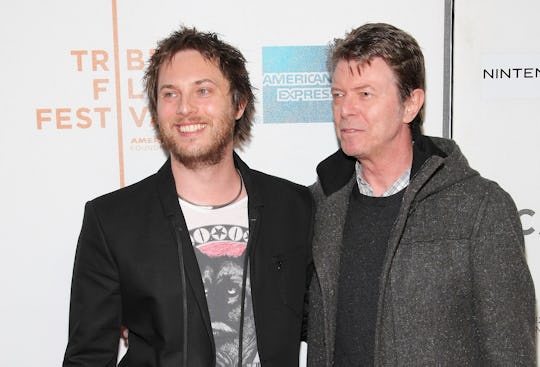 Michael Loccisano/Getty Images Entertainment
David Bowie's Son, Duncan Jones, Announces His Wife Is Pregnant With A Touching Post
Compounding the sad and untimely loss of David Bowie in January is the news that his son, Duncan Jones, is expecting a baby with his wife, Rodene Ronquillo, according to The Huffington Post. Duncan (who was called Zowie Bowie growing up) shared a cute, goofy drawing of a fetus on Twitter Wednesday, explaining in the caption that it was a card he'd made for his dad last Christmas. The film director married Ronquillo, a photographer, in Novemeber 2012, on the same day that she was diagnosed with cancer after he discovered a lump in her breast, according to the Mirror. She eventually beat the disease after undergoing chemotherapy and a double mastectomy. Now, fans have learned that, in a bittersweet turn of events, she's carrying the grandchild Bowie will never get to meet, having lost his own fight with cancer.
Fans reached out to offer congratulations, including one who shared that she learned that she was pregnant on the same day that her father-in-law died, and "it felt brilliant, comforting and difficult all at once." Duncan replied, "exactly that." The couple's spirits seem high, though; soon after the announcement, Duncan tweeted a picture of a baby with Quentin Tarantino's face superimposed on its body, and Ronquillo joked, "Shame on those of you who just thought I was really fat and didn't say anything. HAHA. ;)"
Jones is the only son of David Bowie and his ex-wife, Angie Bowie. The couple divorced in 1980, and the Daily Mail reported that Jones and Angie haven't spoken since Jones was 13 years old. David also left behind a daughter, 15-year-old Alexandria (who goes by Lexi) with his widow, Iman.
Other than having famous parents, Jones is perhaps best known for directing the 2009 science fiction film Moon, starring Sam Rockwell (which I highly recommend). Moon was Jones' first foray into directing, and it earned him an Outstanding Debut Award from the British Academy of Film and Television Arts. Jones' next project is Warcraft: The Beginning, a movie based on the video game World of Warcraft. Jones is a longtime gamer, and in a 2010 interview for Birth Movies Death, he admitted to being "hugely jealous of Sam Raimi," who, at that time, was slated to direct the Warcraft film. Raimi ended up abandoning the project over issues with the script, according to Vulture, and Jones stepped in as a writer and director. Jones' babies, both literal and figurative, are due in June.