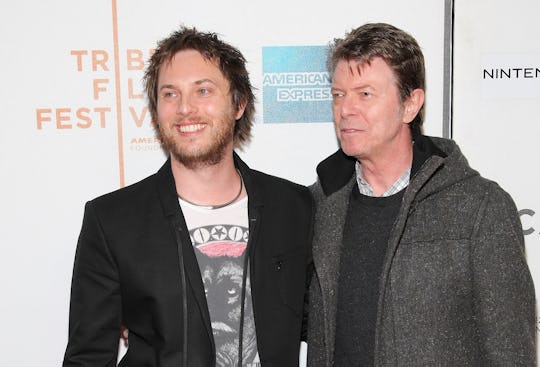 David Bowie's Son, Duncan Jones, Shares A Tear-Jerking Tribute To His Dad
Following the death of David Bowie, stars have flooded the internet with tributes and reflections about the musician's contributions. Though one that was especially important came from Duncan Jones, Bowie's son, who shared a heartbreaking tribute to his dad on Monday. And with the family undoubtedly going through a difficult time, Jones is one of the first closest to the legend to comment publicly on the pop culture icon's death.
On Sunday, Bowie's official Facebook page shared the news that Bowie had died following a long battle with cancer, according to The Independent. And for many, this news comes as a shock since Bowie allegedly kept the diagnosis private. It is also believed that Bowie's latest album Blackstar — which was released two days before his death and on his 69th birthday — was a strategic farewell to his fans. "David Bowie died peacefully today surrounded by his family after a courageous 18 month battle with cancer. While many of you will share in this loss, we ask that you respect the family's privacy during their time of grief," a statement posted on Bowie's Facebook read.
Since then, friends and celebs have taken to social media to react to the sudden news of his passing. One musician who had a lot to say was Paul McCartney, who reacted to Bowie's death on Twitter and Instagram:
Very sad news to wake up to on this raining morning. David was a great star and I treasure the moments we had together. His music played a very strong part in British musical history and I'm proud to think of the huge influence he has had on people all around the world. I send my deepest sympathies to his family and will always remember the great laughs we had through the years. His star will shine in the sky forever.
However, one of the most emotional tributes came from Bowie's son, who is a 44-year-old director. Jones has always sung his father's praises — pointing out in a 2011 Daily Mail interview that Bowie taught him "the basics of making a movie ... how to do storyboards ... write a script [and] do the lighting" — making his tweet all the more devastating. Shortly after his father's death became public, the Source Code director posted a photo of him as a baby atop Bowie's shoulders . "Very sorry and sad to say it's true. I'll be offline for a while. Love to all," the tweet read.
Jones is one of the first from Bowie's family members to publicly comment on his passing. Bowie's wife of more than 20 years, Iman Abdulmajid, posted two ominous photo tweets the day before the news was announced.
With more and more fans and celebs reacting to this shocking loss, the most important thing to do now is to extend our condolences to Bowie's family and friends but respect their privacy at this time. Bowie is certainly someone who will endure through his music and contributions to pop culture, so there's no worry that he'll be forgotten anytime soon.
Image: Michael Loccisano/Getty Images Entertainment