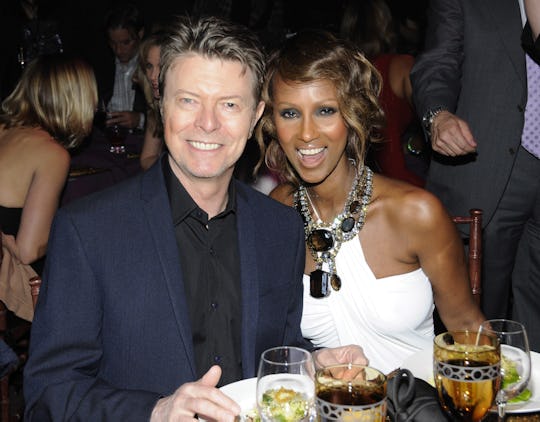 David Bowie's Wife Iman Posted On Twitter Before His Death & It Was A Telling Tribute
As the world woke up to the heartbreaking news Monday that David Bowie had died of cancer, many wondered if his family would comment, and what they would say. Bowie's wife, Iman Abdulmajid, has not said anything publicly since the iconic musician's death, but in a string of heartfelt posts written as recently as Sunday, 60-year-old model Iman hinted at David Bowie's death on Twitter, writing, "The struggle is real, but so is God," and "sometimes you will never know the true value of a moment until it becomes a memory."
News of Bowie's death comes as a shock to many — particularly as his cancer diagnosis 18 months ago was not widely known, and because he just released a new, critically-acclaimed album, Blackstar, on Friday, his 69th birthday, according to the Independent. In light of his passing, it's clear Bowie knew this work would be his last, and so he pulled out all the stops to leave a final album that the Telegraph called "bold and weird [and] extraordinary," and hinting at his own mortality:
Beneath the swooning cinematic rush of Dollar Days beats a gorgeous, bittersweet piano ballad on which Bowie proclaims himself 'dying to... fool them all again and again' but the phrase breaks apart until he sounds like he might be singing 'I'm dying too.'
One person who has acknowledged his death publicly however is Bowie's son, Duncan Jones, who tweeted confirmation of the news with a sweet photograph of the two of them together. "Very sorry and sad to say it's true," Jones wrote. "I'll be offline for a while."
Bowie's death is a huge loss to music, and it's one all fans will likely be feeling for a while. But, despite fans' collective public loss, there's no question that it'll be nothing like what his family will continue to feel now that he's gone.
Image: Kevin Mazur/WireImage/Getty Images