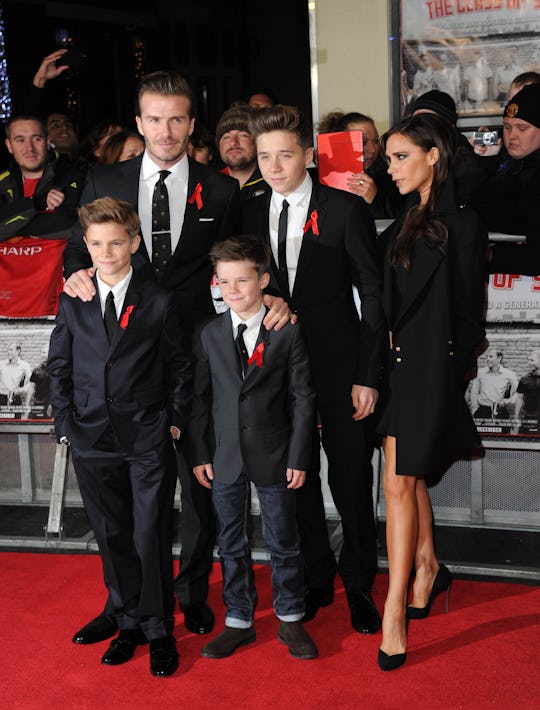 Stuart C. Wilson/Getty Images Entertainment/Getty Images
David & Brooklyn Beckhams' Mother's Day Tributes To Victoria Were Incredibly Sweet — PHOTOS
Sunday was Mother's Day in the UK, so former soccer player David Beckham and his children took the opportunity to post loving, appreciative message to the mothers in his life, specifically his wife and his own mom. Needless to say, the Beckhams' Mother's Day tribute was incredibly sweet and provided a rare glimpse into the glamorous family's life.
David Beckham took to Instagram to show how grateful he is for the powerful women in his life. There's no denying that Victoria Beckham is a fierce, determined, entrepreneurial woman. Fans know her as a fashion icon, an incredibly successful designer, a bold philanthropist, a lover of dark colors, and, of course Posh Spice of Spice Girls fame. But its more rare to see the side of her that has lovingly raised four children, The Daily Mail noted. The photos Beckham posted let fans into a side of her that is not captured by paparrazzi and red carpet photographers. These are family shots that look like they could be anyone's Mother's Day posts, which is what makes them so great. They aren't glamorous because motherhood rarely is. They capture the everyday for the Beckham parents and their children.
David Beckham's first post featured a photo of their four children. They have three sons, Brooklyn, 17, Romeo, 13, Cruz, 11, and one daughter Harper, who is just 4-years-old, according to Glamour. Beckham captioned the photo simply, but sweetly: "17 years ago our brood started and these little ones have the most amazing mummy that they love so much." He went on to write: "And I love her for many reasons but the main one is because she gave me the most amazing children … Happy mama's day as the little ones would say."
He then shared a throwback shot of him and his own beautiful mother (who incidentally looks a lot like Lady Di) sitting around the dinner table with their family. Beckham looks like he is about 8-years-old in this photo, and it's not surprising that he was a pretty adorable child. To his mother, he wrote: "Happy Mother's Day mum… You have been my number one fan from day one but more importantly your support , honesty , and tireless love for not just me and my sisters but for your grand kids which really shows the type of person you are … Amazingly generous .. Thank you for being my mum."
Finally, Brooklyn, their oldest son, shared a photo of his mother from what looks like a day of hiking and exploring. Unlike the high-fashion Victoria Beckham fans have come to know, in this shot she is in workout gear and a cap, smiling at her son. He captioned the photo, "Happy Mother's Day mum.You love,protect and inspire me every day.I love you so much X." He's right; as the Guardian noted, from Spice Girl to model to business woman to mother, she is pretty inspiring.
All in all, the tributes were sincere, genuine, and loving. They serve as a great example of how appreciative everyone should be toward the mothers in their lives, whether it's a holiday or not, and whether they're famous or not. Let's face it; all mothers are stars.