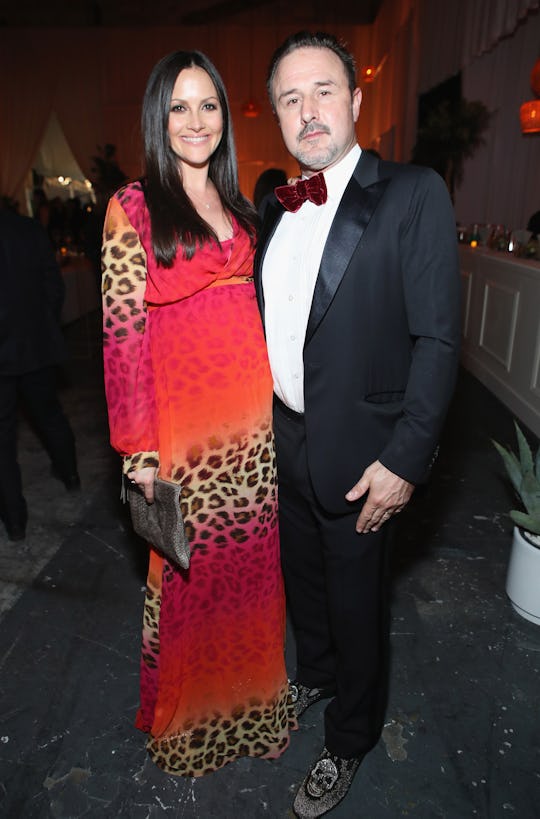 Randy Shropshire/Getty Images Entertainment/Getty Images
David & Christina Arquette Welcome A Son
Actor David Arquette and journalist Christina Arquette welcomed a son Wednesday, when their second child, Augustus, made his entrance into the world. In a statement to Us Weekly, David and Christina said they were "just beyond thrilled and blessed to expand their family," and fans of the couple looking to get a glimpse of the baby boy didn't have to wait long — David shared an adorable photo of Augustus (affectionately nicknamed "Gus") on Instagram Thursday. The photo was a close-up shot of little Gus giving the camera some serious newborn side-eye, and came with an appropriately funny caption. After announcing his son's name and birth date, proud dad David wrote, "His first thoughts were 'Whatchu Lookin' At?'"
9-pound-4-ounce Gus joins his 2-year-old big brother, Charlie, as well as his older sister Coco, David's 12-year-old daughter from his first marriage to actress Courteney Cox. He may have his hands full as a father of three, but back in December, he told People that Christina was really the one who deserved all the credit, especially given that she was having a fairly tough pregnancy. He said,
She's doing good. It's not easy, it's so hard. I think the second pregnancy is a little harder than the first. She's got morning sickness on this one. Being pregnant and watching a little rascal that's firmly in his terrible twos is pretty difficult. She a trooper, she's doing great. She's my hero.
Gus may be totally sweet (though I'm pretty certain that any baby named "Gus" is destined to be completely adorable), his name is also a very touching tribute to a special family member. David and Christina gave Gus the middle name Alexis, in honor of David's late sister. Transgender actress Alexis Arquette died in September 2016 after suffering a heart attack linked to a bacterial infection and a 29-year battle with HIV, according to USA Today. Alexis' passing was confirmed by her brother, Richmond Arquette, in a Facebook post, according to E! News. He wrote,
Our brother Robert, who became our brother Alexis, who became our sister Alexis, passed this morning September 11 at 12:32 a.m. He was surrounded by all of his brothers and sisters, and one of his nieces and several other loved ones. We were playing music for him and he passed during David Bowie's Starman. As per his wishes, we cheered at the moment that he transitioned to another dimension.
David Arquette also posted a social media tribute to his sister, and called her his "hero for eternity."
David and Christina might be thrilled by their new baby's arrival, but in December, David admitted that he wasn't exactly sure how happy Charlie was going to be to have a little brother. He told People,
Charlie is really cute about [Christina's pregnancy]. We have little books that prepare him. We'll see how it goes when it all goes down. He's a tricky little bugger.
Of course, getting a new sibling is a big adjustment, and it's not always a welcome one. But the Arquettes seem to have a lot of love — and laughter — between them, and that will no doubt help them as they adjust to life as a newly-expanded family.