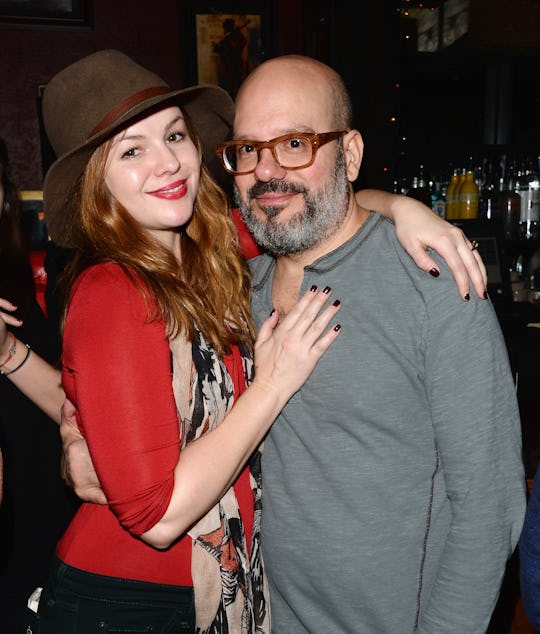 Andrew H. Walker/Getty Images Entertainment/Getty Images
David Cross & Amber Tamblyn's Baby Is The Cutest
She may not have a name yet, but David Cross' photo of his baby daughter with Amber Tamblyn is already the best thing on the internet, at present. Posted to his official Instagram account on Sunday, Cross' latest snap will have both the couple's fans and fans of adorable babies in general cooing. (Try and top that, cute cat video your mom just sent you.)
"Baby's first cabbage," Cross captioned the photo, which featured mom Tamblyn holding baby [insert powerful feminist name here], all bundled up in a cozy blanket and hat. (The couple has not yet released the little one's name.)
It's not the first glimpse of little [insert badass, earth-shattering goddess name here] fans have gotten since her birth in February. Back on Feb. 22, Tamblyn announced the new family addition in an adorable Instagram video featuring her daughter's tiny foot, protruding from a fuzzy blanket. "David and I are proud to announce the birth of our daughter, Dauphinoise Petunia Brittany Scheherazade Von Funkinstein Mustard Witch RBG Cross Tamblyn-Bey jr.," Tamblyn joked in the caption. "#TheFutureIsFemale."
In early March, Tamblyn also posted a photo of her daughter's hand, clasped around an unidentified grown-up's finger. "Two of my favorite hands," she captioned the sweet photo.
Cross' photo marks the first time the couple have shared a full photo of their little one (who, for now, will be referred to as "Her Majesty" or "Future Feminist Queen).
The couple have been making headlines more recently, with several of Tamblyn's writings gaining traction across social media. In October, just prior to the presidential election, Tamblyn announced her pregnancy by penning a column for Glamour titled, "The Frame That Holds the Big Picture: How Mothers and Daughters Can Change the Way We Talk About Being Women."
"Motherhood has been heavily on my mind because I am going to be a mother soon," Tambyn wrote at the time. "I'm pregnant, with a daughter on the way. I think constantly about the world I am bringing her into." She continued,
Will I get a phone call from my daughter someday, one she never wanted to make? Will I have to share with her my story [of my sexual assault], and the story of her great-grandmother's words to her grandmother? Is it possible to protect her from inheriting this pain? How much do I have to do, as a daughter and a soon-to-be mother, to change not just the conversation about how women are seen, but the language with which conversations are spoken in?
... [In November] I'll be voting for a future for my daughter where conversations about our bodies and our lives are broader than what value they have for men. A future where being a mother is less about warning our daughters about our sons and is instead lifting them up to their greatest potential.
Things may not have turned out as Tamblyn had hoped, and both Tamblyn and Cross may still have a while before they need to hold any such heavy conversations with their daughter. But if Cross' Instagram photo is any indication, both proud parents will be ready to meet any questions she has with plenty of love.