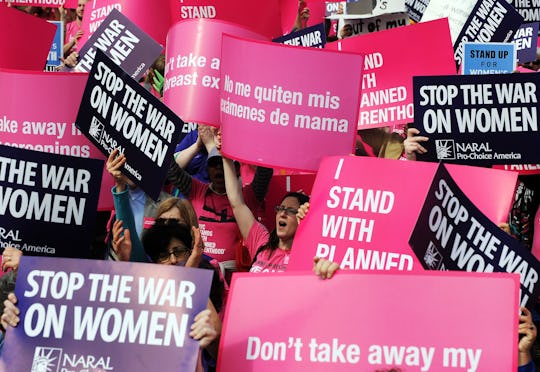 JEWEL SAMAD/AFP/Getty Images
David Daleiden Indicted In Texas & It's A Victory For Planned Parenthood
Local reports coming out of Houston on Monday confirmed that anti-abortion activist David Daleiden would be indicted in the state of Texas for his role in creating a series of videos which aimed to reportedly take down Planned Parenthood, according to The Hill. Daleiden, the alleged mastermind behind the videos, was named alongside fellow anti-abortion activist Sandra Merritt. According to The New York Times, a grand jury convened this week to determine whether Planned Parenthood Gulf Coast — the branch of Planned Parenthood that's headquartered in Houston — was guilty of criminal conduct.
In a rather dramatic reversal, the grand jury determined that it would not press charges against Planned Parenthood, but would instead indict Daleiden on a felony charge of tampering with a governmental record, in addition to a misdemeanor count "related to purchasing human organs," according to The Times. Like Daleiden, Merritt was indicted on the felony charge of tampering with a governmental record.
In 2015, Daleiden released now-infamous undercover videos showing Planned Parenthood officials reportedly discussing whether body parts from aborted fetuses could be sold for research. These discussions were prompted by Daleiden and his associates, who posed as biotechnology representatives under the auspices of The Center for Medical Progress, a nonprofit organization that Daleiden created in 2013, allegedly with the express purpose of using it to infiltrate Planned Parenthood. Daleiden also reportedly posed as an employee of BioMax Procurement Services, a fake biomedical research company.
According to Houston Public Media, the Harris County District Attorney's office had been called upon to investigate Planned Parenthood Gulf Coast after the undercover videos led to widespread public speculation about Planned Parenthood's activities. The grand jury investigation had been preceded by a two-month investigation by the Houston Police Department, the Texas Rangers, and the district attorney's office. In a statement this week, Harris County District Attorney Devon Anderson explained,
We were called upon to investigate allegations of criminal conduct by Planned Parenthood Gulf Coast. As I stated at the outset of this investigation, we must go where the evidence leads us. All the evidence uncovered in the course of this investigation was presented to the grand jury. I respect their decision on this difficult case.
On Monday, the grand jury cleared Planned Parenthood Gulf Coast of breaking the law. "We follow every law and regulation and these anti-abortion activists broke multiple laws to try and spread lies," Rochelle Tafolla, a spokesperson for Planned Parenthood Gulf Coast, told ABC News.
This is a victory for abortion rights, but women's healthcare providers still face an uphill battle in Texas. According to the Houston Chronicle, Texas Gov. Greg Abbott will continue to investigate the undercover videos. "Nothing about today's announcement in Harris County impacts the state's ongoing investigation," Abbott said in a written statement on Monday. "The State of Texas will continue to protect life, and I will continue to support legislation prohibiting the sale or transfer of fetal tissue."
For their part, a spokesperson for Planned Parenthood Gulf Coast told the Chronicle that they felt "vindicated."
Images: JEWEL SAMAD/AFP/Getty Images