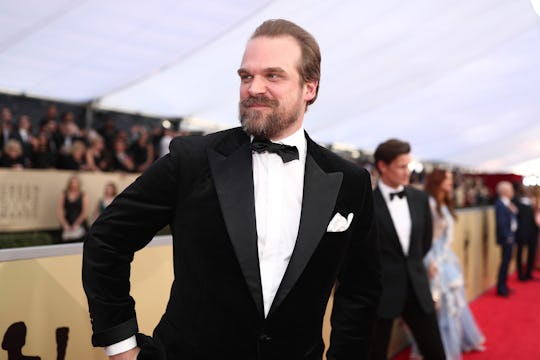 Christopher Polk/Getty Images Entertainment/Getty Images
David Harbour Got Refreshingly Candid About His Struggles With Bipolar Disorder
Holding honest conversations around mental illness can be difficult and potentially triggering for some. There is always a sense of anxiety or fear that seems to surround opening up about mental illness for the first time. But in an eye-opening new interview, David Harbour opened up about his own struggles with bipolar disorder and the honesty he displayed is so reassuring.
Harbour has been acting for awhile, with his first television appearance dating back to 1999. But, Harbour has gained increased fame for his role the Netflix series Stranger Things as Police Chief Jim Hopper. As a result of the role, according to The Hollywood Reporter, Harbour received nominations for a Primetime Emmy Award in 2017 and a Golden Globe Award in 2018. This year, he won the Critics' Choice Television Award for Best Supporting Actor in a Drama Series.
Harbour has clearly become one of Stranger Things many acclaimed actors, but a recent interview helped shine more light on Harbour's experiences as a person. On June 4, WTF Podcast with Marc Maron released a new interview with Harbour. In the last half hour of the interview, the actor revealed he was diagnosed with bipolar disorder when he was 25, according to TooFab, which published a partial transcript of the conversation.
"Here's the interesting thing — something I've never truly spoken about publicly," Harbour said, according to TooFab. "I was actually into this Catholicism thing … and I was sober for like a year and a half, I was 25, and I actually did have a manic episode. I was diagnosed as bipolar."
The conversation came about from a discussion of the actor's reported alcohol addiction, according to TooFab, which he has discussed previously. In an August 2017 feature for Dartmouth Alumni Magazine, for instance, Jennifer Wulff wrote that Harbour started drinking as a teen, when he would go to bars after museum visits to Manhattan since he was rarely asked for ID. "I just had a lot of anger and fear and it manifested in ways I wasn't mature enough to deal with," Harbour said, according to the feature. "So I self-medicated with alcohol."
The actor went on to say that he had quit drinking 15 years ago, after reaching a point of becoming "very lonely and needing a different direction in my life", according to Dartmouth Alumni Magazine.
After the WTF podcast began to approach conversations of spirituality, Harbour opened up about his experiences with bipolar disorder. "I really had like a bit of a break where I thought I was in connection with God," he said on the podcast. The actor revealed that first manic episode resulted in his parents having him taken to a mental asylum.
Bipolar disorder is most commonly thought of in association with the manic stage, which is what Harbour discussed in his interview. However, according to National Institute of Mental Health, there are four basic types of bipolar disorder. Although all of them involve clear changes in mood, energy, and activity levels, there are differences between each. For example, bipolar II disorder is classified by hypomanic stages, which are different than the manic episode Harbour outlined.
Out of the four types, the NIMH notes that bipolar I disorder is commonly defined by manic episodes lasting at least seven days or manic symptoms so severe that the person needs immediate hospitalization. According to Mayo Clinic, mania can cause noticeable problems at work, school and social activities, as well as relationship difficulties. Additionally, mania may also trigger a break from reality, as Harbour briefly discussed when Maron asked if he had been taking drugs at the time of his manic episode. According to TooFab, he said:
No. But the interesting thing about it was that I realized I don't really need them. That I have a capacity to see "the elves" in the corners of the room if I really allow myself to go there. Yeah so I was actually — by my parents — taken into a mental asylum.
With recent studies showing that teen suicide is on the rise, as USA Today reported, it's so important to have public figures discuss their experiences with mental illness. Although Harbour's interview may be hard-hitting, he highlights some important things about bipolar disorder.
It's clear that Harbour is conscious of this, as he later tweeted on June 5: "If someone you love still suffers shame about a diagnosis, or a fellow parent worries that their bipolar kid won't be able to make it, our @WTFpod could soothe."
It seems fitting that Harbour is conscious of the kids who may need this. After all, his character on Stranger Things stole fans' hearts as he took care of Eleven, teaching her basic manners to interact with people, and eventually adopting her.
Other Twitter users have reacted positively to Harbour's story, sharing encouragement of their own stories:
Mood disorders, like bipolar disorder, can be particularly difficult for people to understand. They aren't uncommon, though. The Depression and Bipolar Support Alliance noted that bipolar disorder affects approximately 5.7 million adults in the United States. Bipolar disorder typically develops in a person's late teens or early adult years, but that doesn't mean it doesn't affect children.
Of the 3.4 million children and teens with depression in the United States, up to one third of them may experience the early onset of bipolar disorder, according to Mental Health America. It's important to openly discuss bipolar disorder and its variety of symptoms, so parents are able to identify them and properly work with their children.
With these conversations so sorely needed, David Harbour's interview couldn't have had better timing. And hopefully it proves helpful for other people experiencing the same things.